Sometimes an opportunity crosses your path that is unique, but at the same time feels like it's meant-to-be. The story of our collaboration with Samurai Jeans is such an opportunity. We are very proud to be teaming up with Samurai Jeans, creating a limited-edition collaboration jeans, that will be the main subject of the second BENZAK fading contest. In this article we'll tell all you need to know about this special product. Lennaert, our founder, took the time to write down a very personal and compelling story about what makes this collaboration so special and unique… But first, the jeans!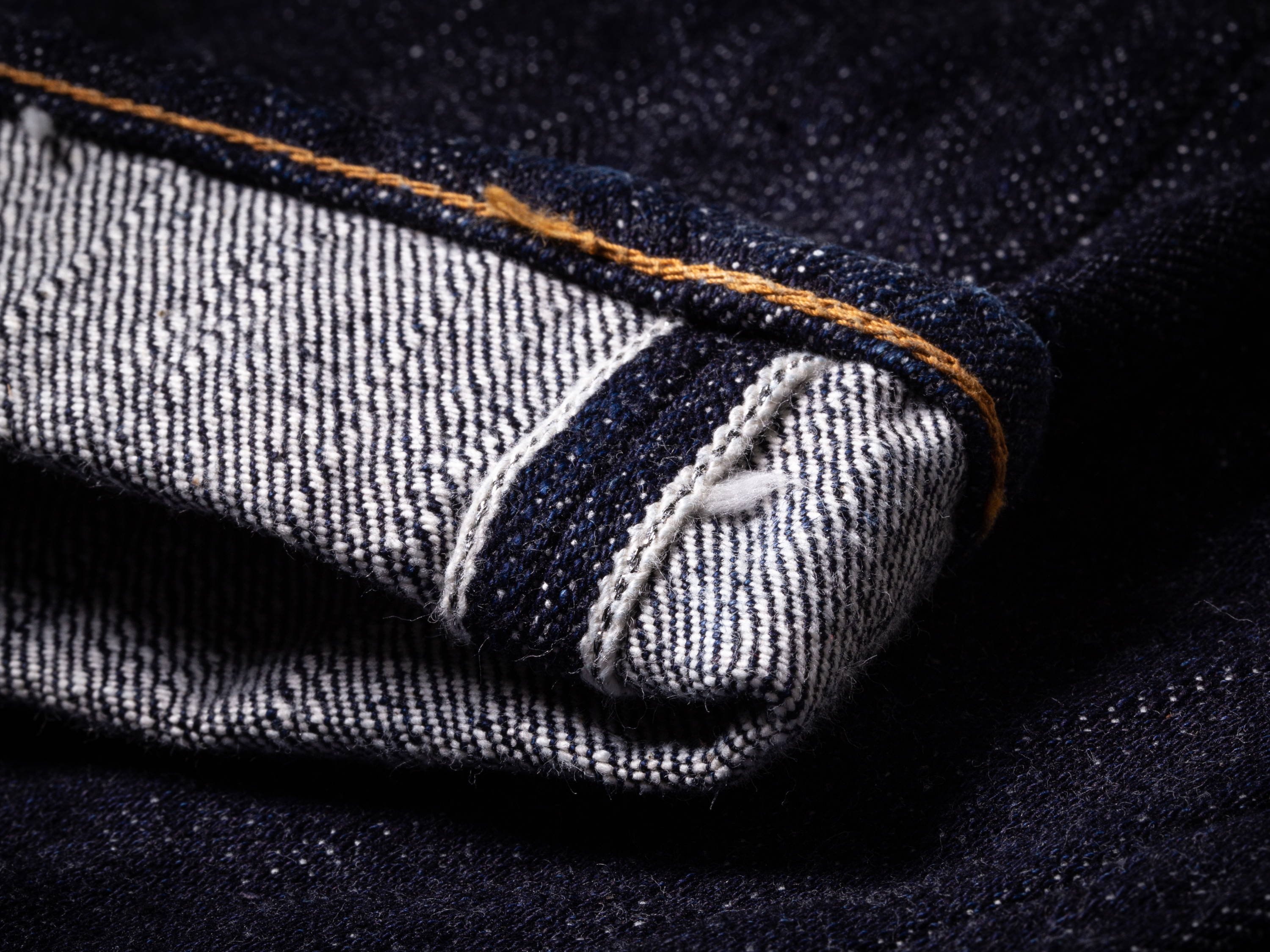 THE FABRIC
19 oz. sword selvedge is a free translation of the term KATANAMIMI, as used by Samurai Jeans for this proprietary fabric. It refers to the silver lurex selvedge which represents the katana samurai sword. The fabric is known for its incredible fading capabilities and high contrast markings. These characteristics are the result of the fabric's construction: uneven, slubby indigo-dyed #5 warp yarns, and heavy, thick white #4 weft yarns.
The 19 oz. fabric falls into the category of heavy-weight denim. The sword selvedge denim is noticeably tough; this is due to the fabric being woven at a high tension. Samurai Jeans also refers to this fabric as KIWAMI DENIM, which translates to 'extreme denim'. However, it has a very short break-in time and is a well-balanced, comfortable choice to go for as your first heavy-weight denim project.
The fabric is very well-known by Samurai fans internationally, as it's used for the world-renown popular model, s710xx and others. The awesome fading capabilities of the fabric can be seen on a pair of Lennaert's Samurai Jeans he had worn 10 years ago, before launching BENZAK.
The fabric is unsanforized (which means it will shrink about 2 sizes after a warm wash), but the jeans will already be soaked in the factory to eliminate most of the shrinkage; this is called 'one-wash'. This means you should get a tight fit, that allows for some stretching after wear. We are very proud to be able to use this beautiful fabric for this collaboration, especially because it has been one of Lennaert's favourite denim fabrics of all time.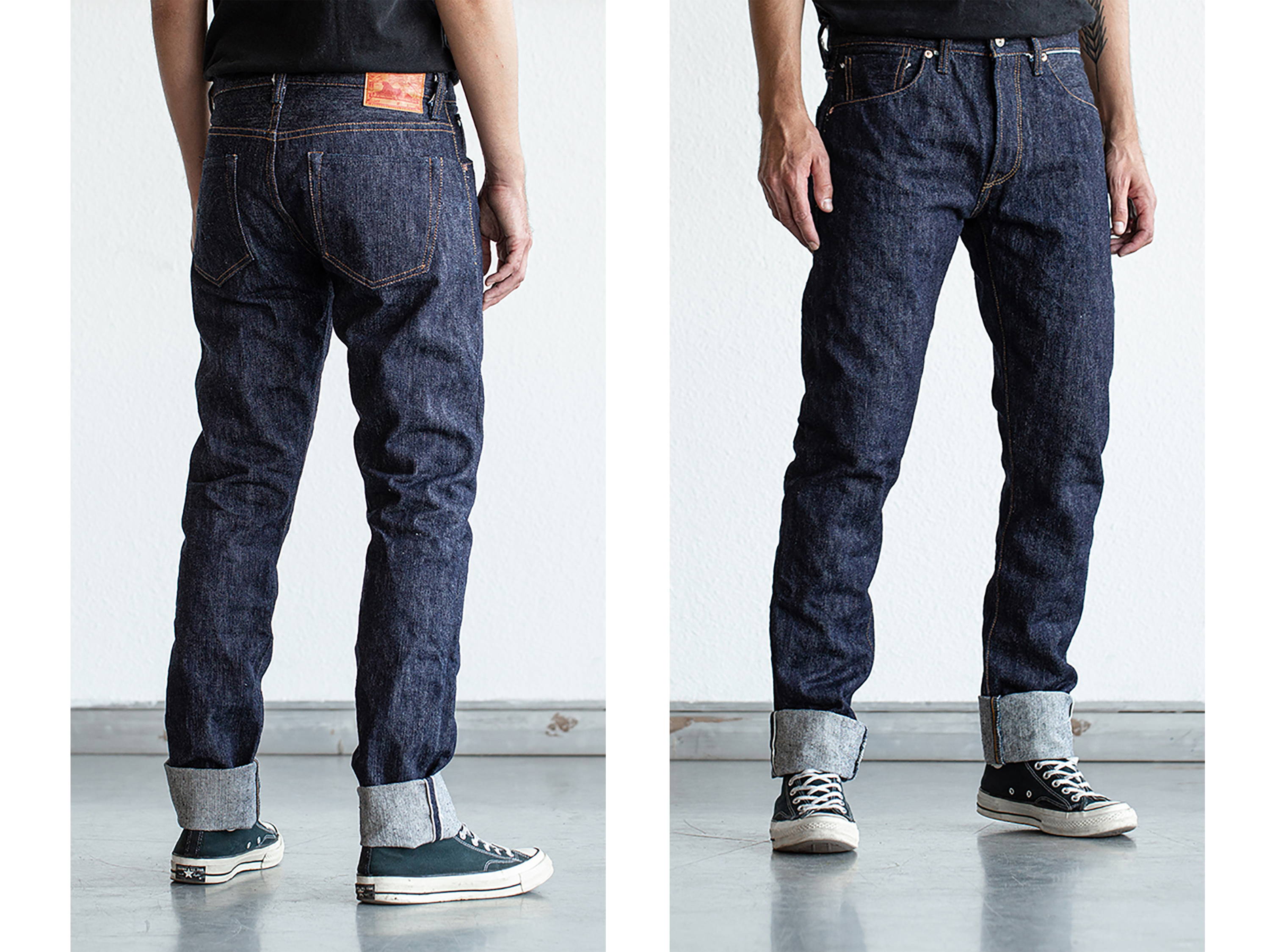 THE FIT
Together with Samurai Jeans, we have developed this new fit called the BDDxSAM-01. It's considered a regular fit with a medium rise and tapered legs. We wanted to use a BENZAK fit as a base pattern for this collaboration, but we had to tweak the pattern to make it work with an unsanforized fabric. Because shrinkage on the warp and weft are always different (the warp usually shrinks more) our pattern maker had to make some ingenious alterations that have allowed us to create a versatile, shaped top block to fit European body types, something that BENZAK is known for.
The fit can be considered a hybrid between our iconic B-01 SLIM and B-03 TAPERED styles. We do recommend buying your true size based on the size chart, because we will deliver the jeans pre-soaked and eliminated of most of the shrinkage; it will mostly just stretch out with wear and not shrink anymore.

THE DETAILS
The jeans have been designed by BENZAK and constructed by Samurai Jeans, so we have created a balanced, co-branded product, that represents both brands. You will find signature details from both BENZAK and Samurai Jeans as well as some new ideas created exclusively for this collaboration.
The silver selvedge or KATANAMIMI is part of the KIWAMI DENIM, and represents the katana samurai sword.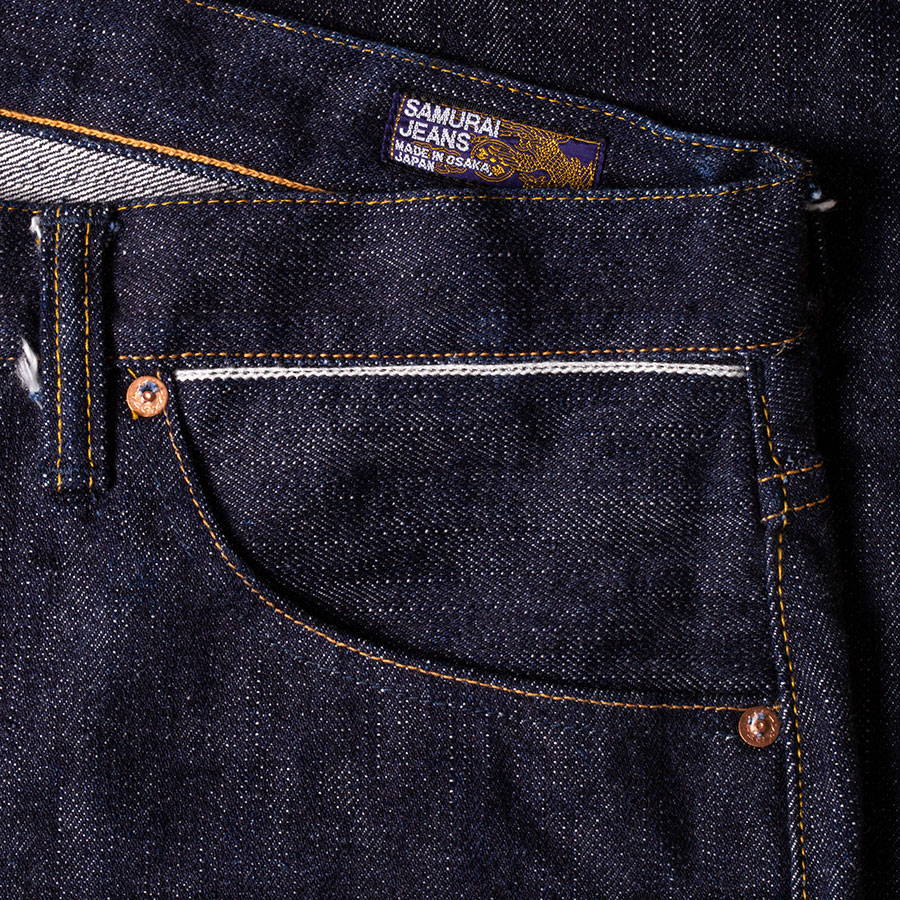 The hidden 6th pocket is BENZAK's signature detail. In other words, the evolution of a classic. It can be found on all our jeans. When wearing a belt, the exposed silver selvedge will be hidden.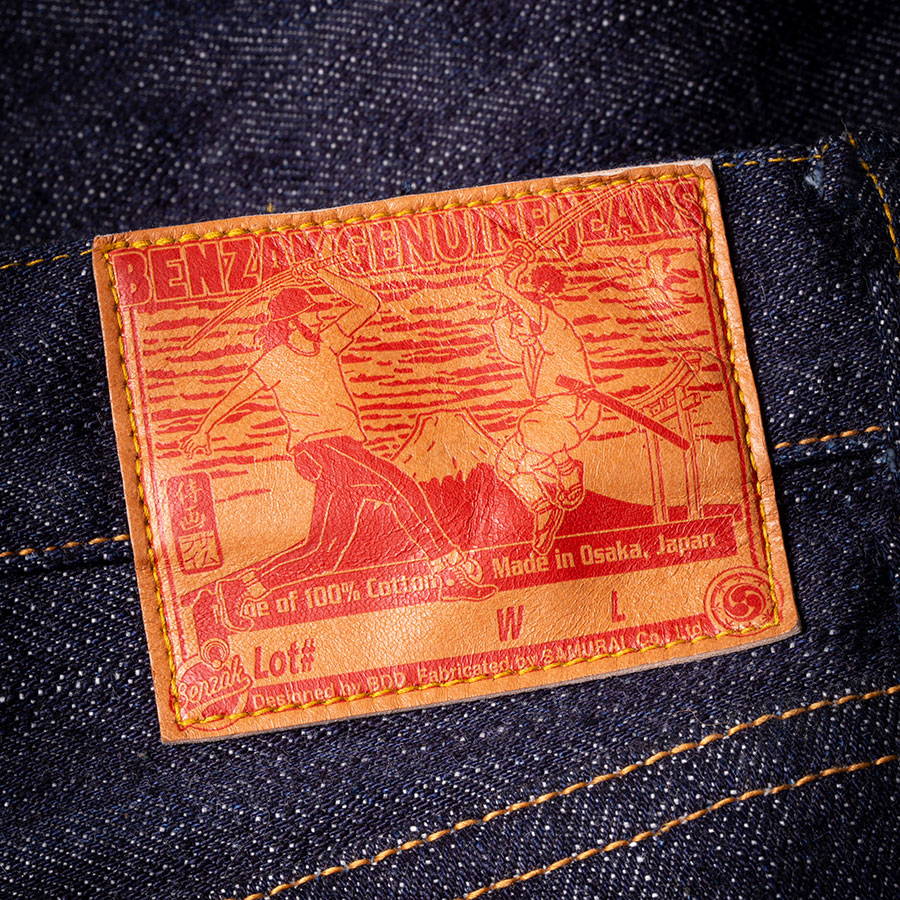 The sheepskin leather patch is exclusively designed for this collaboration and features the BENZAK mascot battling the samurai warrior. This represents the creative partnership between BENZAK and Samurai Jeans, as well as the denim fading contest tied to this very collaboration.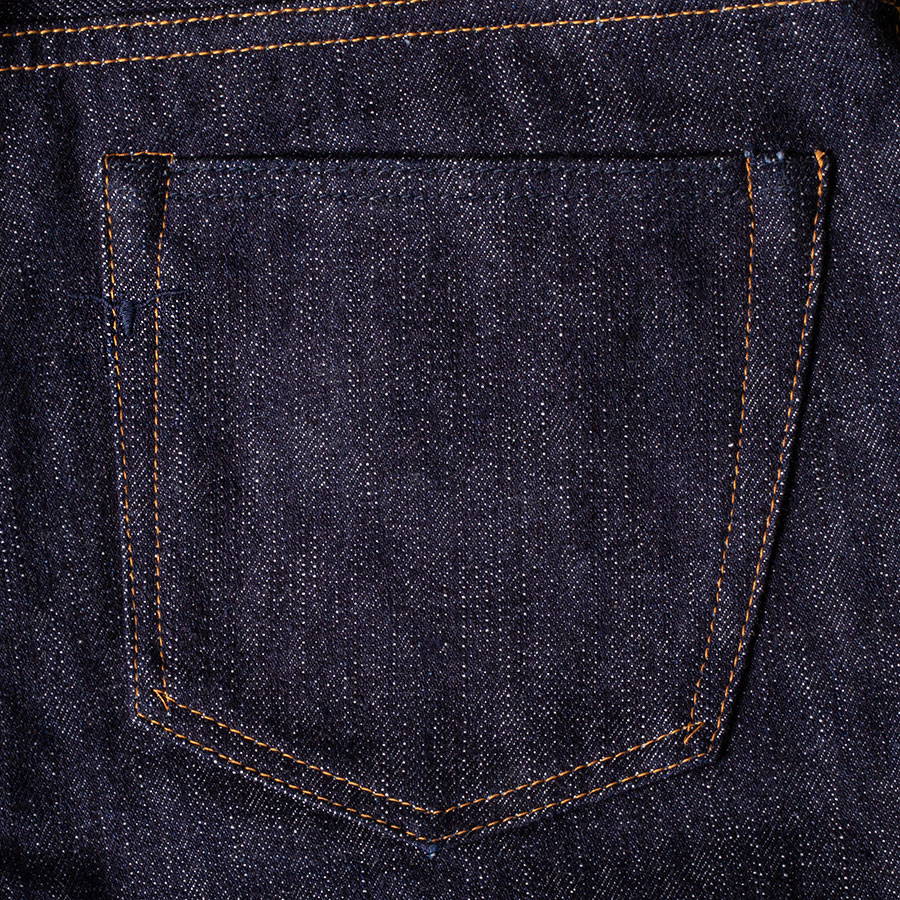 The right-back pocket features the BENZAK bull embroidery insignia and no arcuate, while the left-back pocket features the Samurai Jeans arcuate. If you take a close look inside of the left-back pocket of the jeans, you will find the hidden red Samurai tab. This branded tab is not legally possible to place on the outside of the jeans when selling these jeans outside of Japan.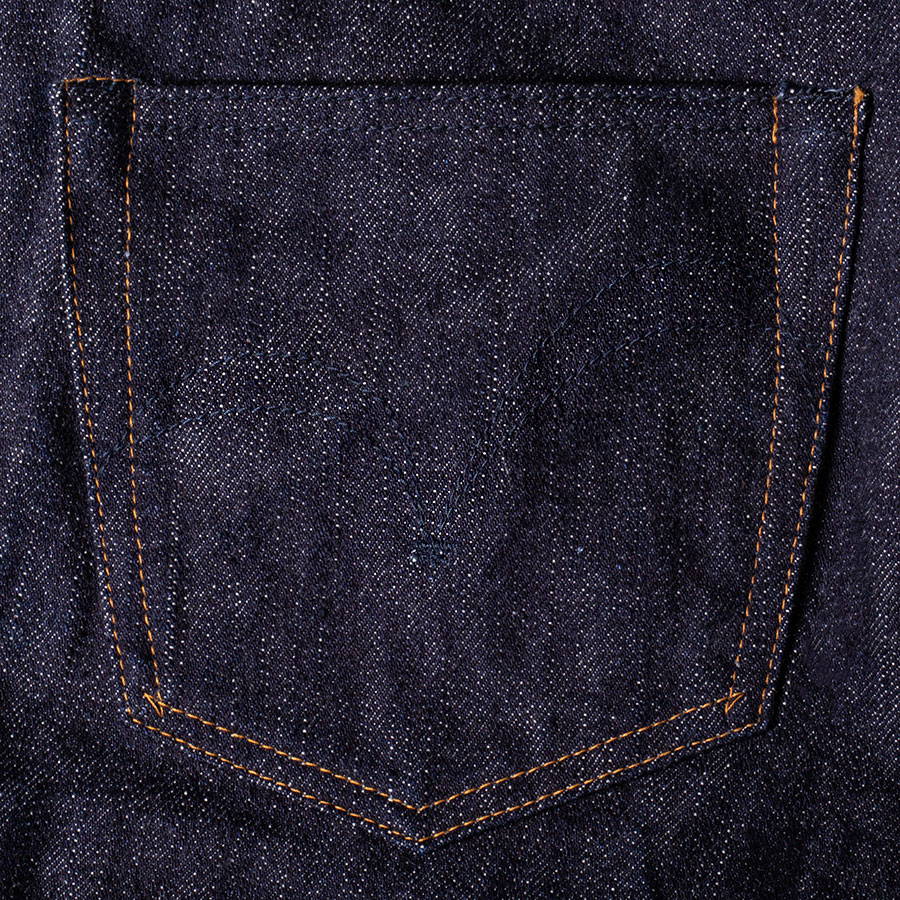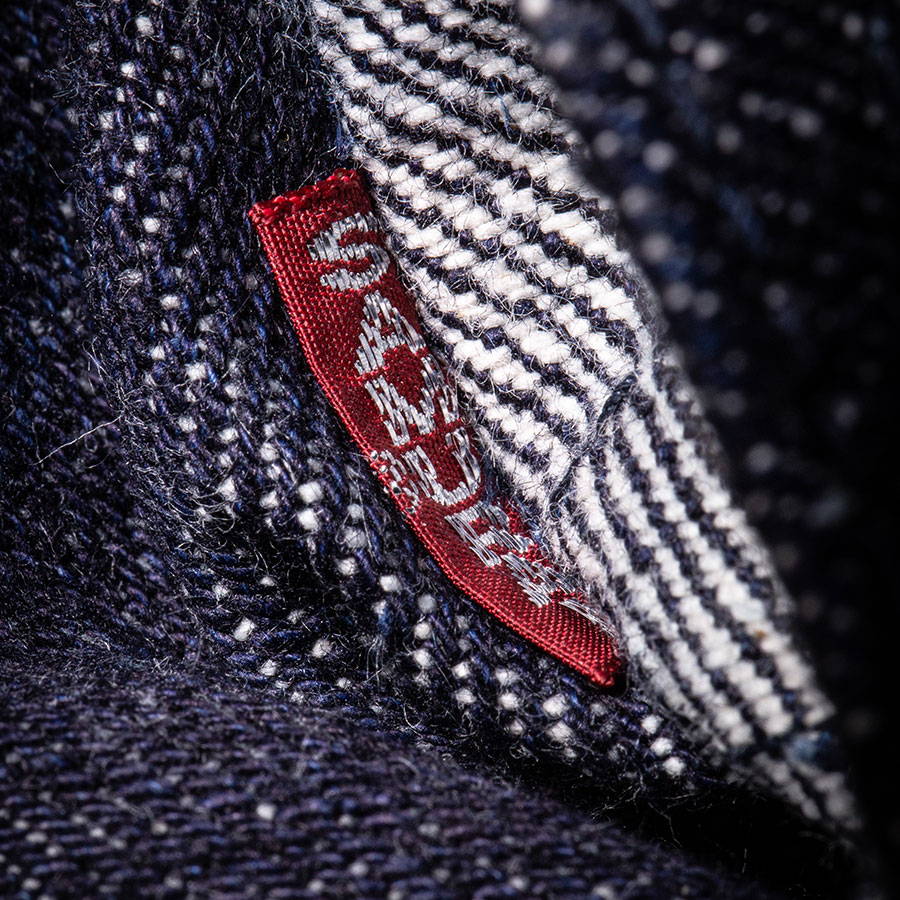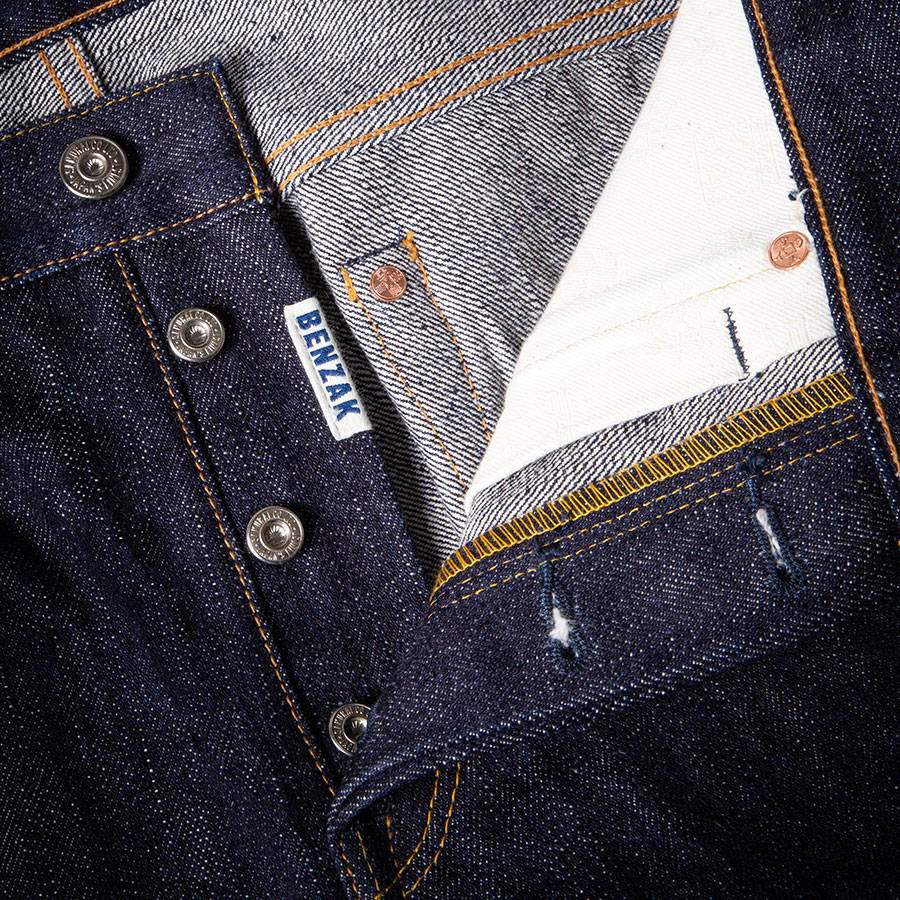 The cotton pocketing fabric features a jacquard woven text that translates to 'Everything including myself is constantly changing' and is part of Samurai's philosophy.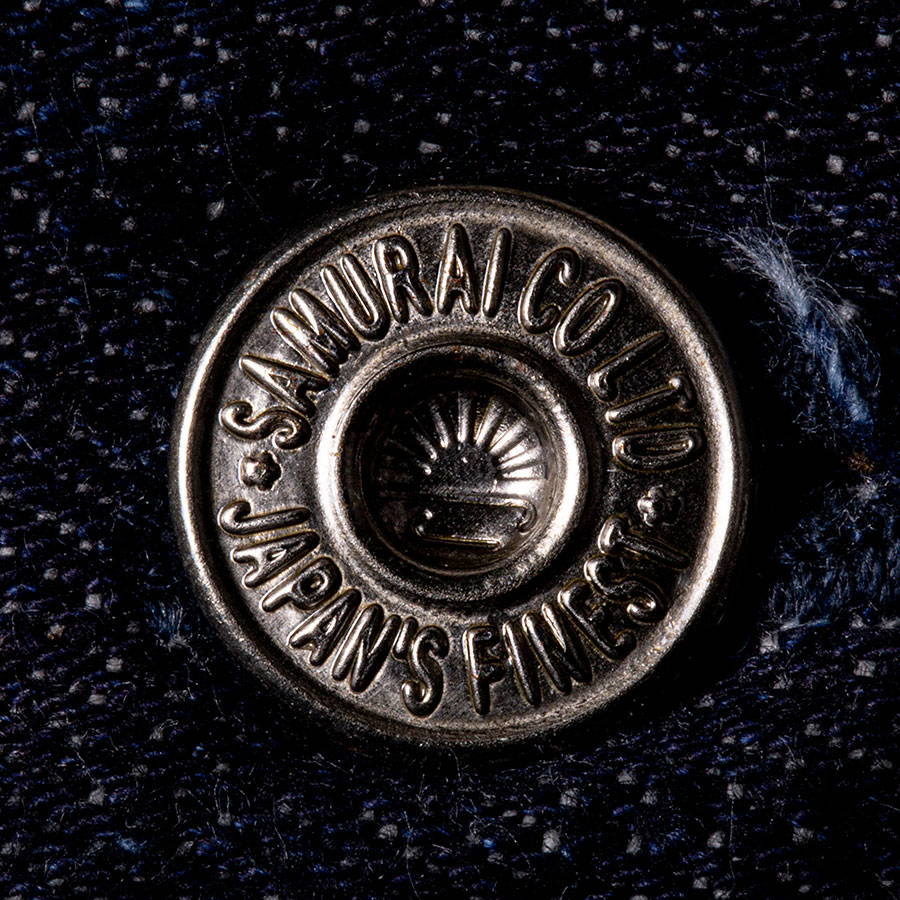 The steel buttons feature Samurai's rising sun logo, and the copper rivets are also branded by Samurai Jeans.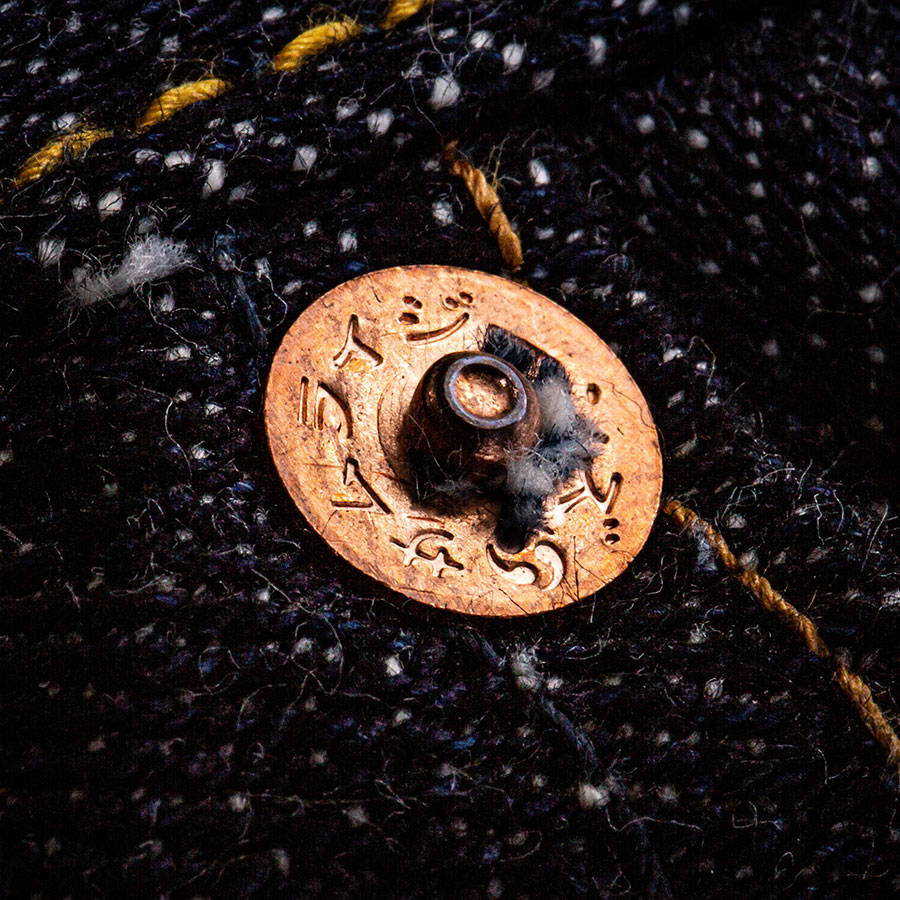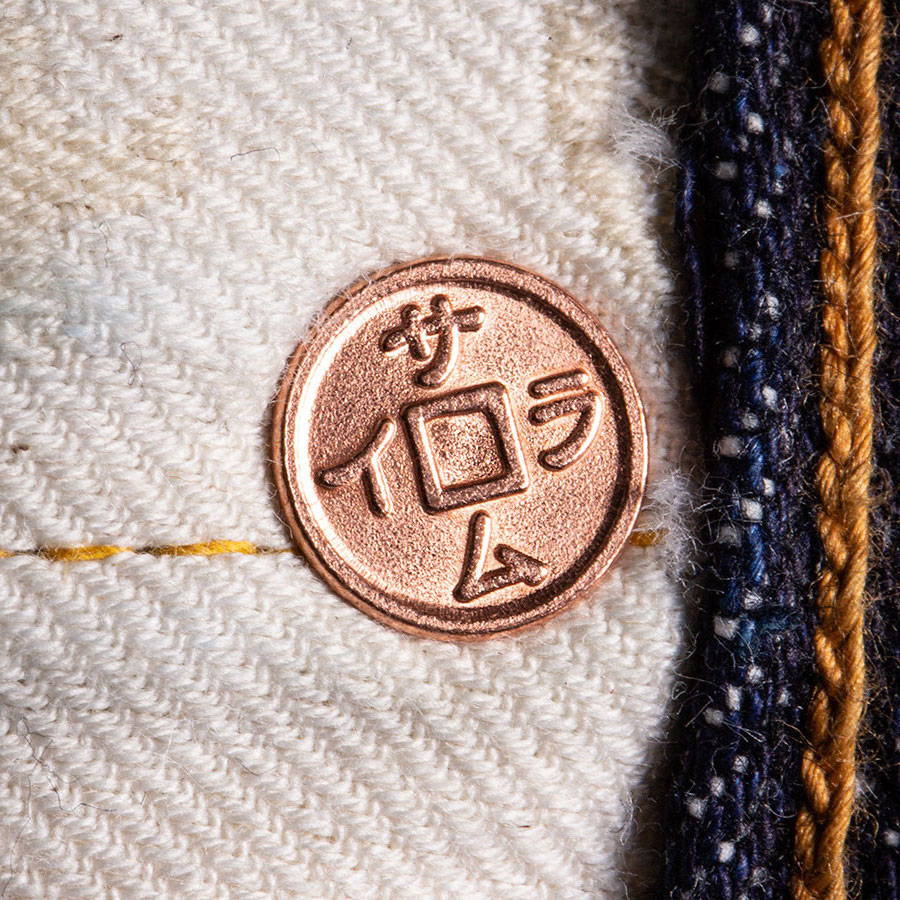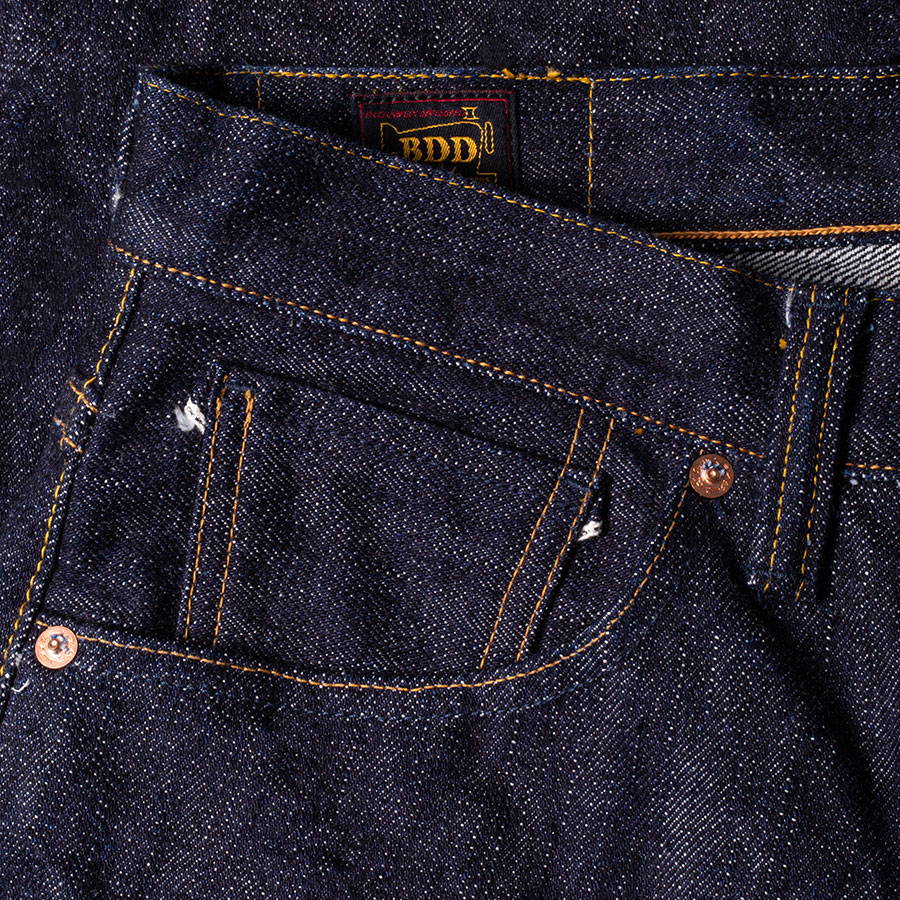 A little piece of selvedge is popping out from underneath the coin pocket; this is called peek-a-boo selvedge. Originally found on vintage jeans, this is actually considered an unintentional defect, but we've embraced this little detail and put it there on purpose.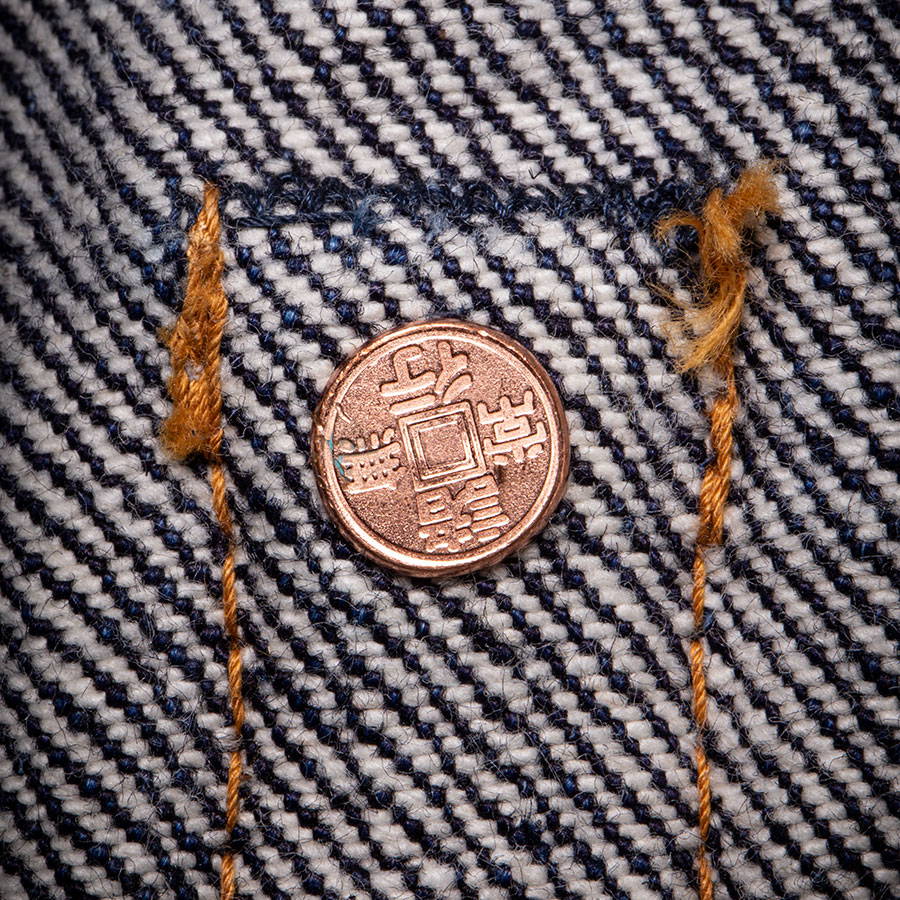 The back side of the hidden rivet, only visible on the inside of the jeans.
---
regular fit / tapered legs

19 oz. sword selvedge, aka KIWAMI DENIM

exclusively woven for Samurai Jeans in Ibara City, Okayama, Japan

silver lurex selvedge, aka KATANAMIMI, representing the katana samurai sword

100% cotton

right hand twill

#5 warp thread / #4 weft thread

unsanforized denim, but pre-soaked ('one-wash' = minimal shrinkage left)

hidden 6th pocket

peek-a-book selvedge at coin pocket

right back pocket with bull embroidery (BENZAK)

left back pocket with tonal arcuate (Samurai Jeans)

hidden red tab
hidden rivets

button fly

sheepskin leather patch with collaboration artwork

cotton threads

button material = steel

rivet material = copper

cotton pocketing with jacquard woven text

that translates to

'Everything including myself is constantly changing'

multi branding to symbolize the unity of our collaboration

designed in Amsterdam, the Netherlands by BENZAK

made in Osaka, Japan by Samurai Jeans

limited edition

€329 (incl. VAT) / €271,90 (excl. VAT)
---
The BDDxSAM-01 19 oz. sword selvedge will be available for pre-order on the 23rd of October at 18:00 CET via our webshop.

Detailed info on the fading contest will follow soon...
---
A letter from our founder:
My passion for denim started many years ago, before our community was able to connect via the various social media channels we have right now. We did have our ways of online communication, through forums like Superfuture and MyNudies. It was very primitive, a bit like Reddit is now, and just as overwhelming for newcomers. Forums aren't created for visuals, like Facebook or Instagram, but function as a way of communicating with groups of like-minded people. You can imagine there would be a small group of hardcore users that were constantly online, hanging out and posting all kinds of stuff. At the time I did not consider myself as one of those hardcore users, although I was online on a daily basis; I would have been considered a 'lurker', someone being around, reading all the stuff, but rarely posting. Still, it was a fun and educational period in my life that has had a big influence on how I created BENZAK years later.
For me, this all started around 2002, still being in high school. These were times where most of the Japanese brands that are now very well-known within the community, were mostly obscure and very hard to come by. There were very few online resellers at that time. If you wanted to get your hands on a pair of 'made in Japan' Evisu, Studio D'Artisan or Denime, biggest chance online was via a proxy service. Such a service helps you locate a certain overseas product at a local vendor, they purchase the item for you, and they ship it to you. In return you have to pay them some kind of commission, usually a percentage of the value of the item. The problem with this is that product information was very difficult to get, such as vital information like a size chart. The forums, however, were a great source to obtain basic and more in-depth information about denim products. Most of the time, you could find out the right size and fit through first-hand experiences, connections with local stores carrying such items, or simply by explaining how to measure your own jeans for comparison.
In most cases, a forum was the only way to really learn about selvedge denim, what fading is, and how we should care for our jeans. Remember, this was years before Rawr Denim (now Heddels) and Denimhunters (with spin-off Rope Dye) went live, so we were dependent on the information people would share through these forums. Sometimes all the information shared was a bit hard to digest, but overall it has been a very interesting time. A big portion of my knowledge on denim can be traced back to these years, and I'd always really enjoy connecting with denim nerds like myself. Although most of the online communication has moved to Facebook and Instagram, both Superdenim and MyNudies are still alive and kicking, with people connecting on a daily basis. You should look for the official Evisu thread on Superdenim ('Evisu is still loved!'), and check who started this back in 2005…
I learned about Samurai Jeans through the forums, and I was very impressed by their detailed construction and fading capabilities. After some further research, I had decided my next pair of raw denim jeans would be the 19 oz. Samurai s710xx. This is one of their most popular models internationally. It's due to its modern fit and amazing fading potential of the iconic 19 oz. slubby fabric. But even though the forums provided enough info on which size to get, I still hesitated to push the button to purchase it online via a proxy. This was back in 2009, years before I launched my own 'made in Japan' products.
That Summer I went on holiday to New York. This provided me with the opportunity to check out the jeans in a brick-and-mortar store, Blue in Green located in Soho, carried the very model I was after. They were the only stockist of Samurai Jeans in the US that time. The downside of buying an imported pair of jeans from a Japanese brand outside of Japan in those days is that they had to cut off the red tab because Levi's holds the international trademark for it, except in Japan. Some would say that most Japanese brands were shamelessly copying Levi's, I've always seen it as a kind of homage. Nowadays most Japanese brands create international versions of their popular models, without all the Levi's copyrighted details.
But anyway, I was able to try on the jeans and get some in-store advice. The fabric was unsanforized, so I had to buy it two sizes too big and shrink it myself by soaking them in warm water in the tub. I decided to follow through and get myself the jeans that had been on my mind for such a long time. I took them back to my hotel room, soaked them and returned with the shrunken jeans for Union Special chain stitch hemming, a service they provided at BiG as well. The fit of the jeans turned out to be perfect; just as it had been advised to me on the forums already, but it was my first pair of unsanforized denim, so I wanted to be sure.
I remember wearing those jeans almost every day that year, and the year after. They faded beautifully, and despite the heavyweight they felt really comfortable. The quality of these jeans was second to none, I was absolutely blown away. In the meantime, I started working in the denim industry and travelled quite a lot to factories in Istanbul and Bangkok. Wearing the jeans in a humid climate, especially in Bangkok, must have accelerated the fading significantly. Eventually, I retired them and moved on to a different pair of jeans. This must have been by the end of 2010.
Not long after, during another business trip to Bangkok, I crossed paths with Samurai Jeans again. This was quite unexpected. Take5, a major retailer of Japanese denim brands in South-East Asia was celebrating its 10-year anniversary with a series of collaborations with brands it stocked. During my stay they organized an in-store event promoting their current collaboration with Samurai Jeans; it seemed I was at the right place at the right time. I visited the store a few days prior to the event, only to learn that Toru Nogami, founder of Samurai Jeans, would attend the event and sign the jeans. I didn't want to miss this opportunity, so I made sure to be there on time. I treated myself with the limited-edition jeans, took a picture together with Nogami-san and Benny Seki (owner of Take5) and got them to sign the jeans. These jeans are now part of my ever-growing collection, keeping them in mint condition with all tags still attached.
Fast-forward, a few year later when I'd already established BENZAK, I met Yoshi Yakushiji through mutual industry-friends, while exhibiting at the various trade shows in Europe. Yoshi has been the sales representative for a few Japanese brands for the international market. Somehow our paths kept crossing during trade show seasons; logically we got to know each other much better.
At some point in 2018, at a trade show in Berlin, Yoshi proposed an idea to me. He wanted to see if I was interested in doing a collaboration with one of the brands he represented at that time. He named two brands, one of them was Samurai Jeans. I instantly remembered the picture I took with Nogami-san and luckily, I'd always kept it saved on my phone. I told Yoshi my experience with Samurai Jeans in Bangkok and showed him the picture. There was no more doubt that this collaboration idea had to happen. It looked like all pieces of a Japanese denim puzzle came together.
And it did happen. As a young kid that grew up on the forums, I fell in love with Samurai Jeans over 10 years ago. Now, being a brand-owner myself, I cannot express how proud I am of this collaboration with Samurai Jeans. It feels like going full circle too, because it turned out that it was in fact Samurai Jeans that organized the very first fading contest through the Superfuture forum back in 2006. Now, we're repeating history again, 15 years later, and 10 years after my encounter with Nogami-san in Bangkok.
I want to thank Yoshi, Nogami-san and the Samurai Jeans crew for making a boy's denim-dreams come true.
Sincerely,
Lennaert Nijgh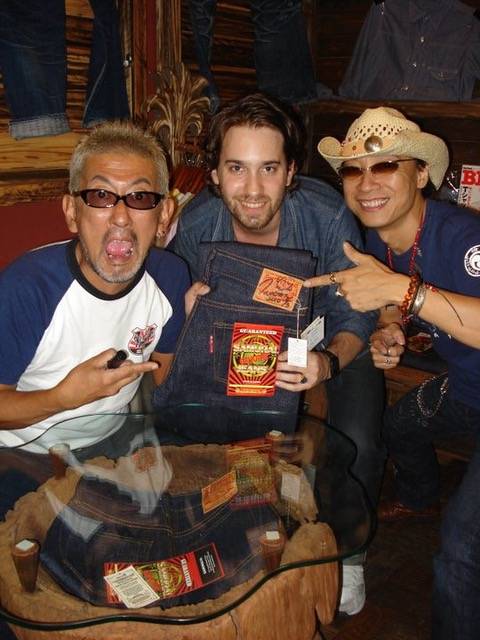 Nogami-san, Lennaert and Benny Seki at the 10-year anniversary event of Take5 in Bangkok in 2011