Entry-level denim has somewhat become a common term amongst the raw denim community, especially those who are new to the world of raw denim. The term entry-level denim essentially defines a class of denim that is a step up from what some would call, commercial, or an ordinary pair of jeans. Just for reference, let's take your standard pair of non-stretch, high-street brand blue jeans. They're probably a well made pair of jeans, with their own distinct style, iconic detailing, and you can most likely get your hands on them for near enough €100. But, there's a level up from the standard pair of jeans, and it's also a more sustainable solution to your everyday denim wearing needs.
Easing into the world of raw denim is exactly what our entry-level denim can do for you. It's light in weight, comfortable from the get-go, and has a very short break-in time. For all the newbies who are looking to take their first step into the raw denim direction, the main feature you need to be aware of is the weight. Entry level denim is usually on the lighter side of the weight spectrum. You'll be looking at 13 oz. and below.
Entry-level denim is an investment for your future, and we've developed five specific entry-level fabrics that'll help you transition into the lifestyle, and they're all online for €179 (or €147,93 if you live outside of the EU).
12 oz. steel blue selvedge

 
Our steel blue fabric weighs in at 12 oz. and is much lighter and brighter than a standard pair of indigo jeans. It's perfect for all year-round wearing and even better for warmer weather. It has a flatter appearance than an iconic pair of indigo jeans, and retains its original hue for a lengthy amount of time. Made by Candiani in Milan, Italy.
Available in: B-01 SLIM
13 oz. indigo selvedge

 
Our 13 oz. indigo selvedge has a perfect mid-tone hue. Candiani has woven this fabric with a unique selvedge id colour pattern which stands out among the crowd. This fabric is synonymous with comfort from the very first wear. Since its inception in 2017 this fabric has been our number one pick for folks who are just starting out on their first raw denim journey.
Available in: B-01 SLIM / B-03 TAPERED
---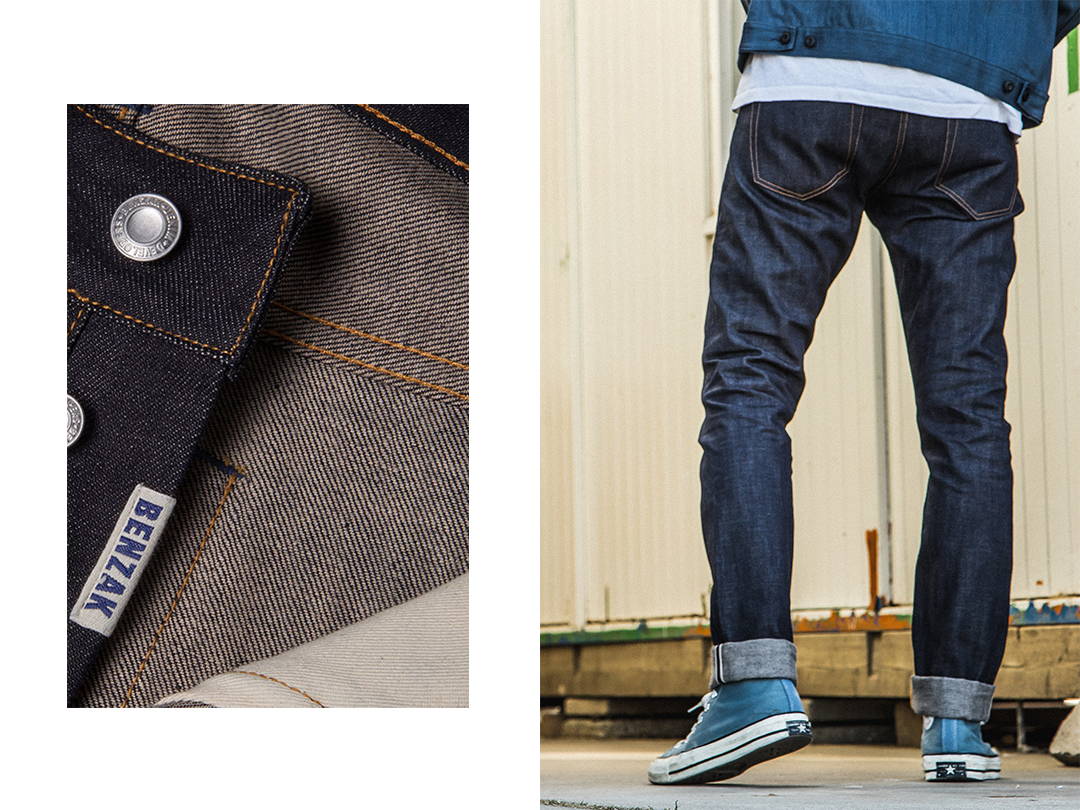 13 oz. brown cotton selvedge

 
Instead of the regular (off) white colour, the weft (horizontal yarns) of the 13 oz. brown cotton selvedge are dyed brown. The use of brown yarns has an effect of the fabric in many ways: the most notable is the vintage copper effect after lengthy amounts of wearing. The fabrics is also much darker than the standard blue hue that you would usually find on a pair of raw jeans, this in-turn allows for high contrast fades.
Available in: B-01 SLIM / B-04 RELAXED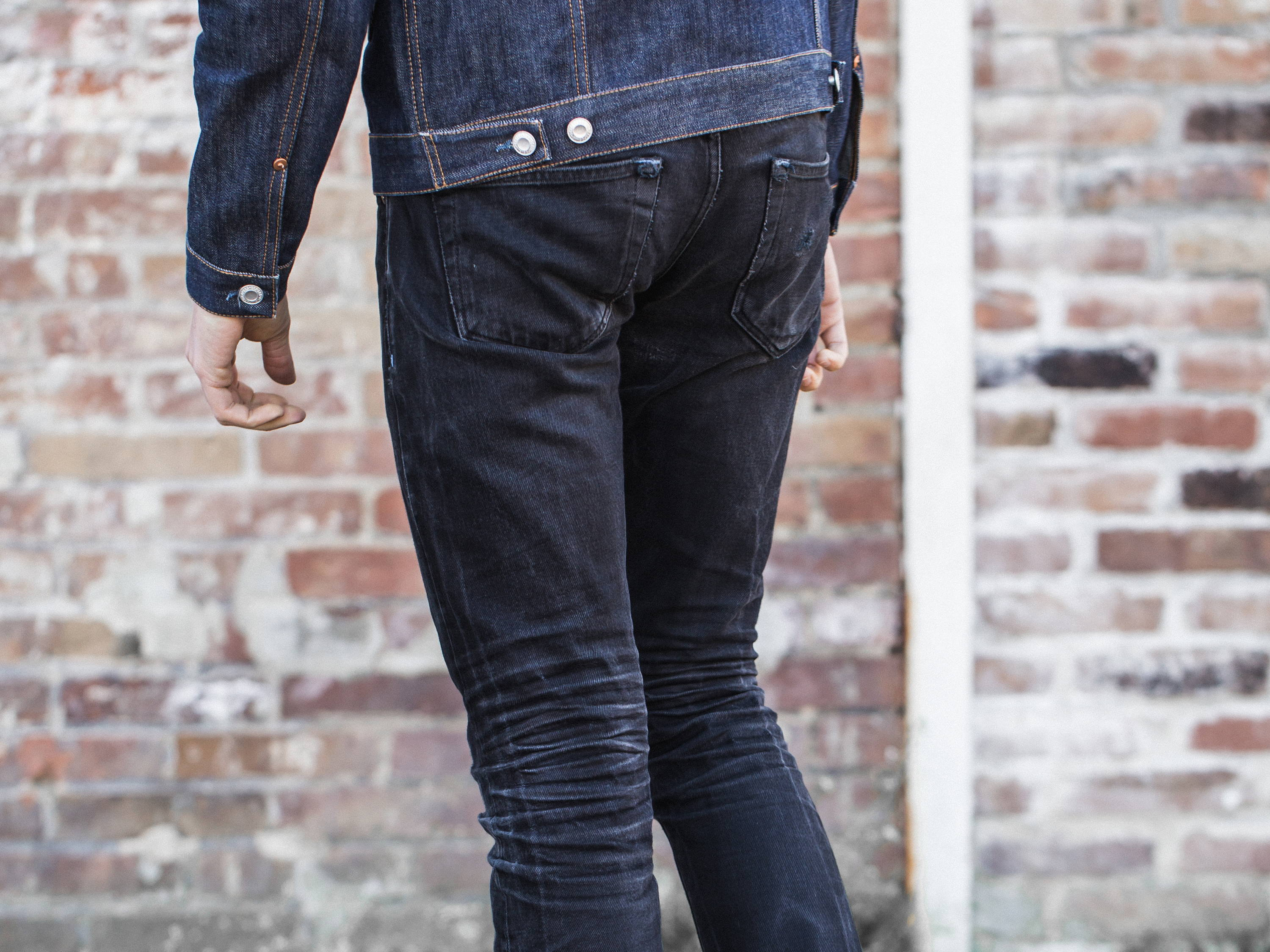 13 oz. BLACK selvedge

 
This fabric has a black warp (vertical yarns) and black weft (horizontal yarns). Just like indigo, the black sulphur dye will fade and become more beautiful after wear and the occasional wash. The 13 oz. black selvedge is woven by Candiani Denim and has been part of the collection ever since the EUROPEAN MADE line was released in the Autumn of 2016. You could say it's a fan favourite.
Available in: B-01 SLIM
---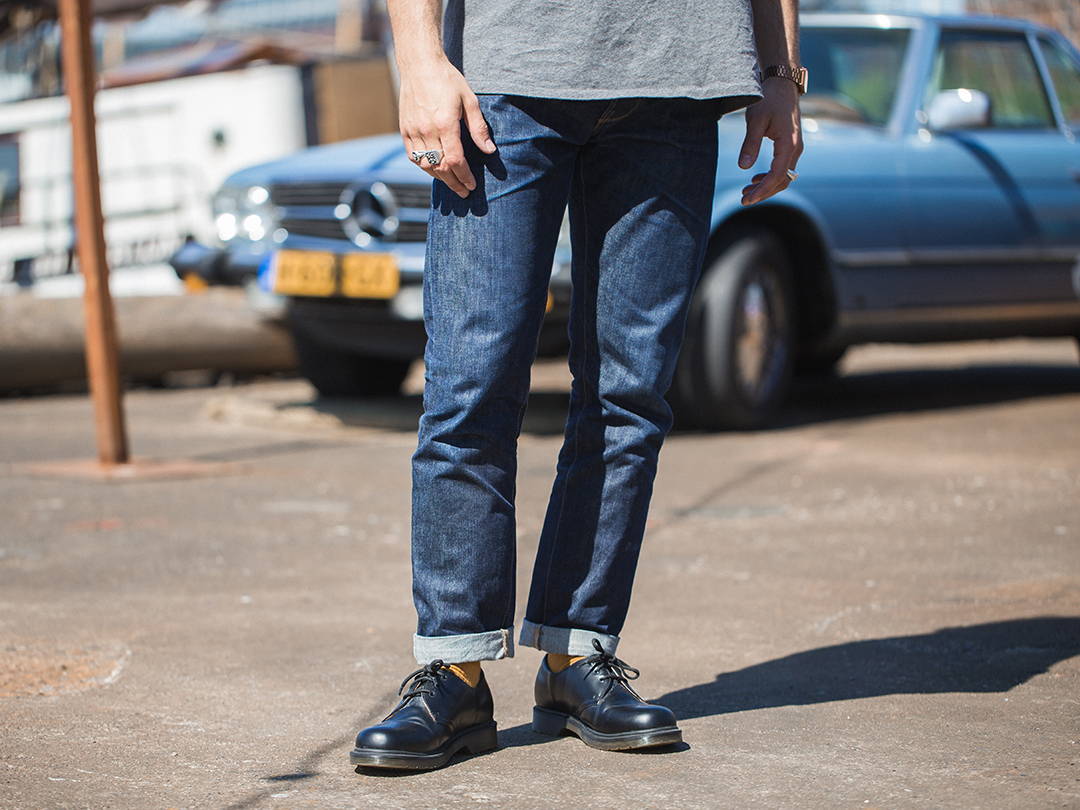 15 oz. vintage indigo selvedge

(special #2)
The 15 oz. vintage indigo selvedge has been exclusively woven by Candiani Denim for BENZAK. We've dubbed this fabric the special#2 as it's the second custom fabric to enter our main collection. It might not be the lightest weight among our selection of entry-level fabrics, but it hosts the properties of one. It has one of the softest interiors within the whole BENZAK collection, a very short break-in time, and it is the classic vintage indigo you'd expect a pair of jeans to be.
Available in: B-01 SLIM / B-02 STRAIGHT / B-03 TAPERED / B-04 RELAXED / W-01 STRAIGHT / BDJ-01 COWBOY JACKET / BDJ-02 RIDER JACKET