A first venture into the world of women's raw denim
In conversation with Anne van der Werff
---
We recently caught up with Anne van der Werff, a good friend of ours, and the other half to founder Lennaert. Anne is in-tune with leading the most sustainable lifestyle possible. She understands that making conscious decisions has an impact on her own well-being, the environment, businesses and communities around her. Her days are spent curating an interior design shop located in Amsterdam, so she's no stranger to production methods, materials and design. Although Anne is very familiar with the world of raw denim, she's never been one to wear it until recently. We dropped our first pair of women's jeans in October 2019, and Anne jumped at the opportunity to take her first step into the world of raw denim.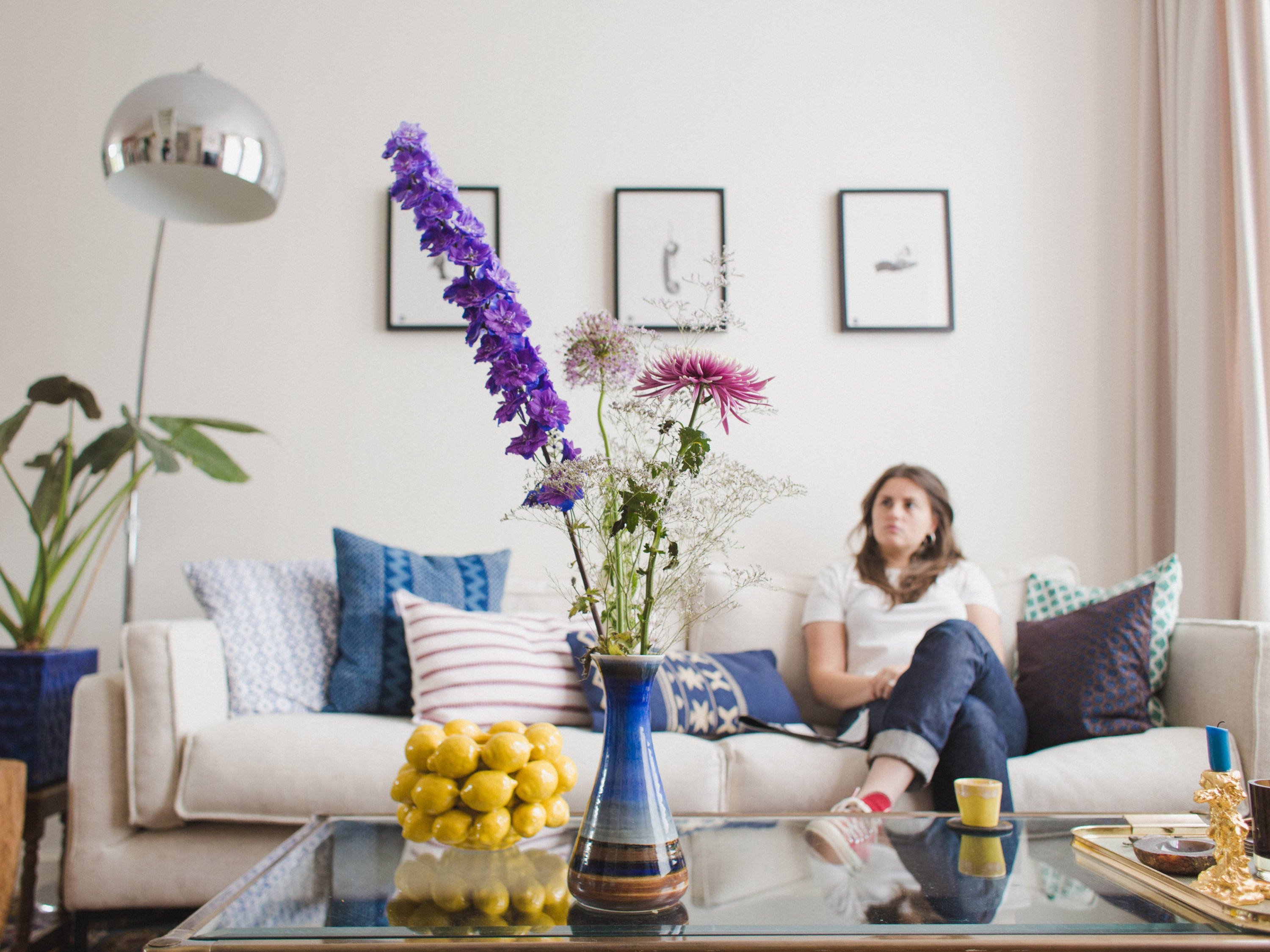 So.. it's been 8 months since you started wearing your first pair raw denim jeans. How has been the experience so far?
[starts laughing] The beginning was tough! You gave me the advice to get a size smaller than I thought I could fit; this meant I had to lay down to get the jeans on and close the buttons. They were really tight! I was already used to wearing slim-fitting 100% cotton jeans, but never raw. The first few minutes I had the feeling I couldn't move, at all. But after you helped me get the right cuff height and doing some [attempts at] practice squats to loosen things up, I could already feel a difference, and I was able to move around. I kept wearing the jeans for the rest of the evening, and the next day I could already button the jeans standing up. I wanted to break them in as quick as possible, so I wore the jeans every day for 2 weeks straight. During that time, we were moving to a new house, packing and carrying boxes. This must have helped speed up the break-in process. After the 2 weeks I could feel that the jeans were starting to mold around my body, and surprisingly, evolving into one of my most comfortable pairs of pants.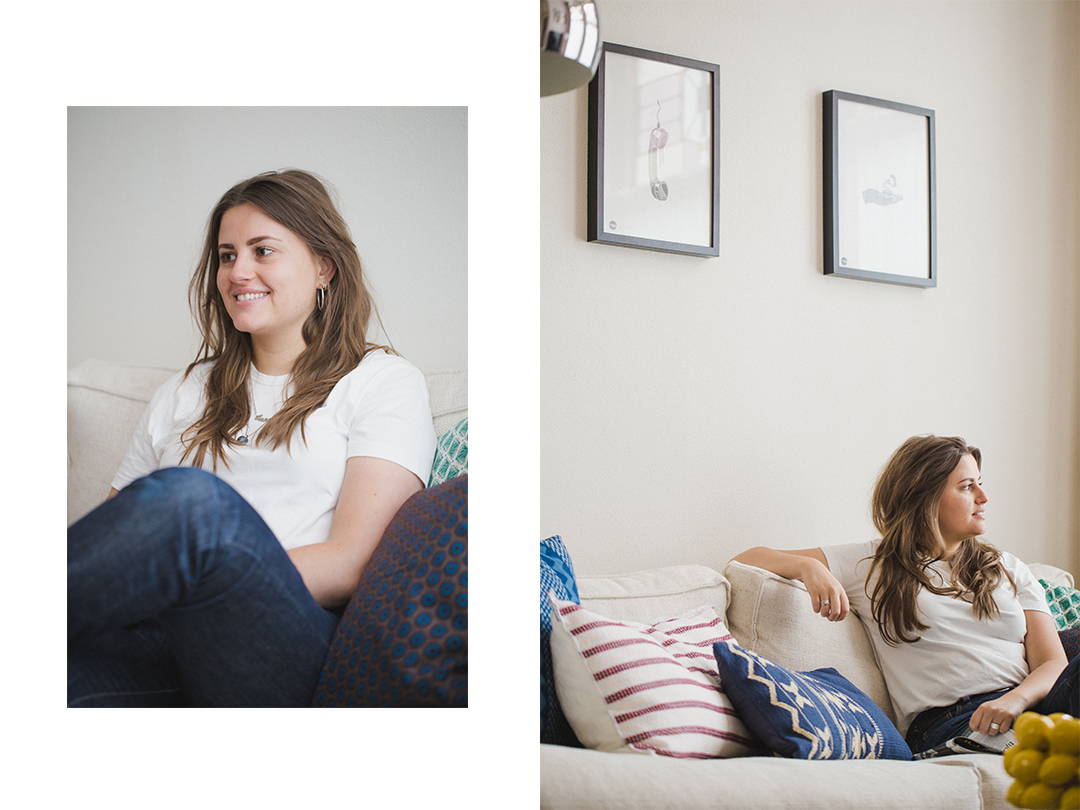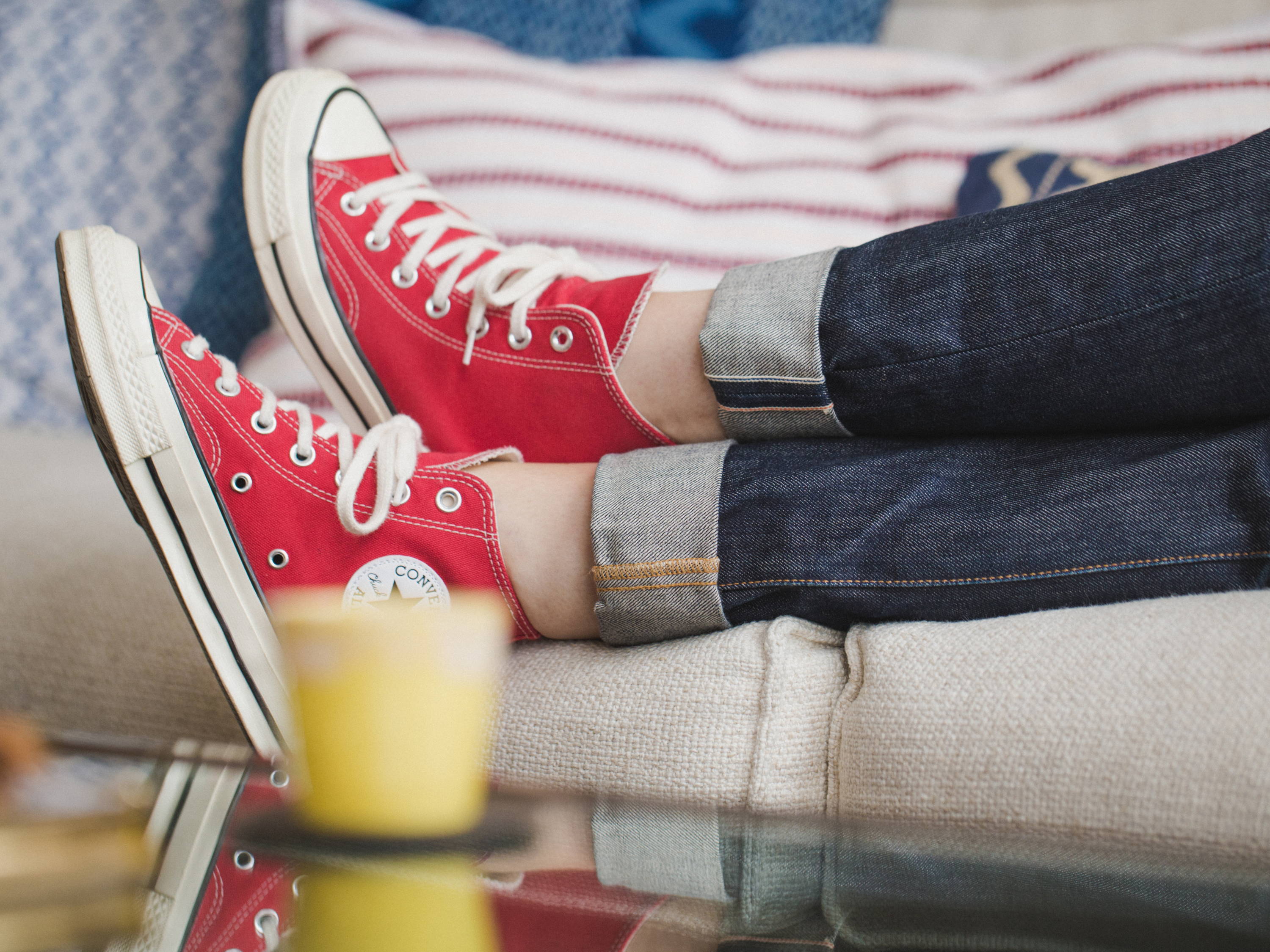 At any point, did you feel regrets starting this project?
Only at the beginning, it got better after that. I was very hesitant about your advice to go for a size smaller than I imagined being possible, but I'm glad I did. Also, the first time riding my bike to work was an interesting experience, I was barely able to bend my knees properly. But moving around really helped break in the jeans quicker.
You pushed yourself to proceed, how do you feel about it?
I'm very happy with the results so far, it's amazing how a garment is able to change so much and so quickly; in a positive way. I was used to clothes that degraded after wear and wash, but this is the opposite. In the past I mainly wore pre-washed jeans with stretch; I had to wash them every week to maintain the fit, so they didn't last me very long. My raw jeans have evolved into a great looking and very comfortable item of clothing. It's become apparent that I can't see myself going back to the stretch denim that I once knew. I don't wear my jeans every day as I like to rotate my outfits quite often. Therefore, I haven't developed high contrast fades, but I actually like this much better. Even so, when putting them on, I can really feel that I'm wearing a heavy fabric, but it feels really nice because the fabric has evolved following my curves, moulding into a perfect fit. I do need to wear a belt now because the waistband is stretched out, but then again, I haven't washed them yet, so that might shrink it back to a snug fit.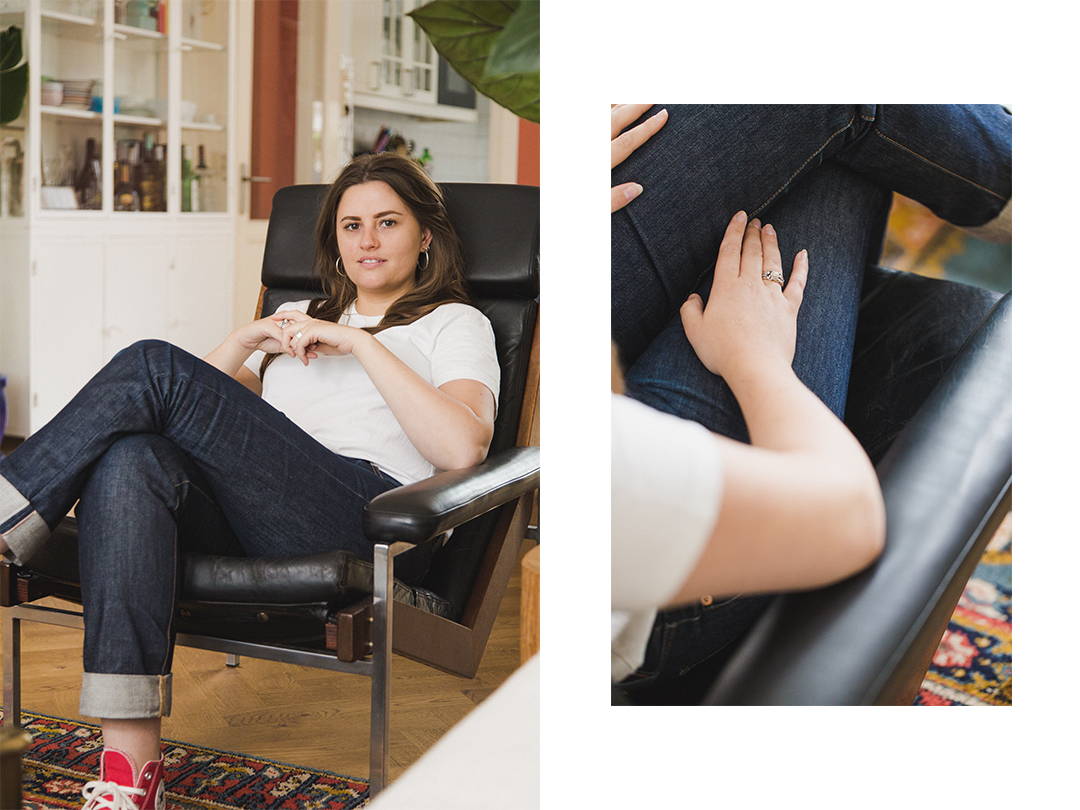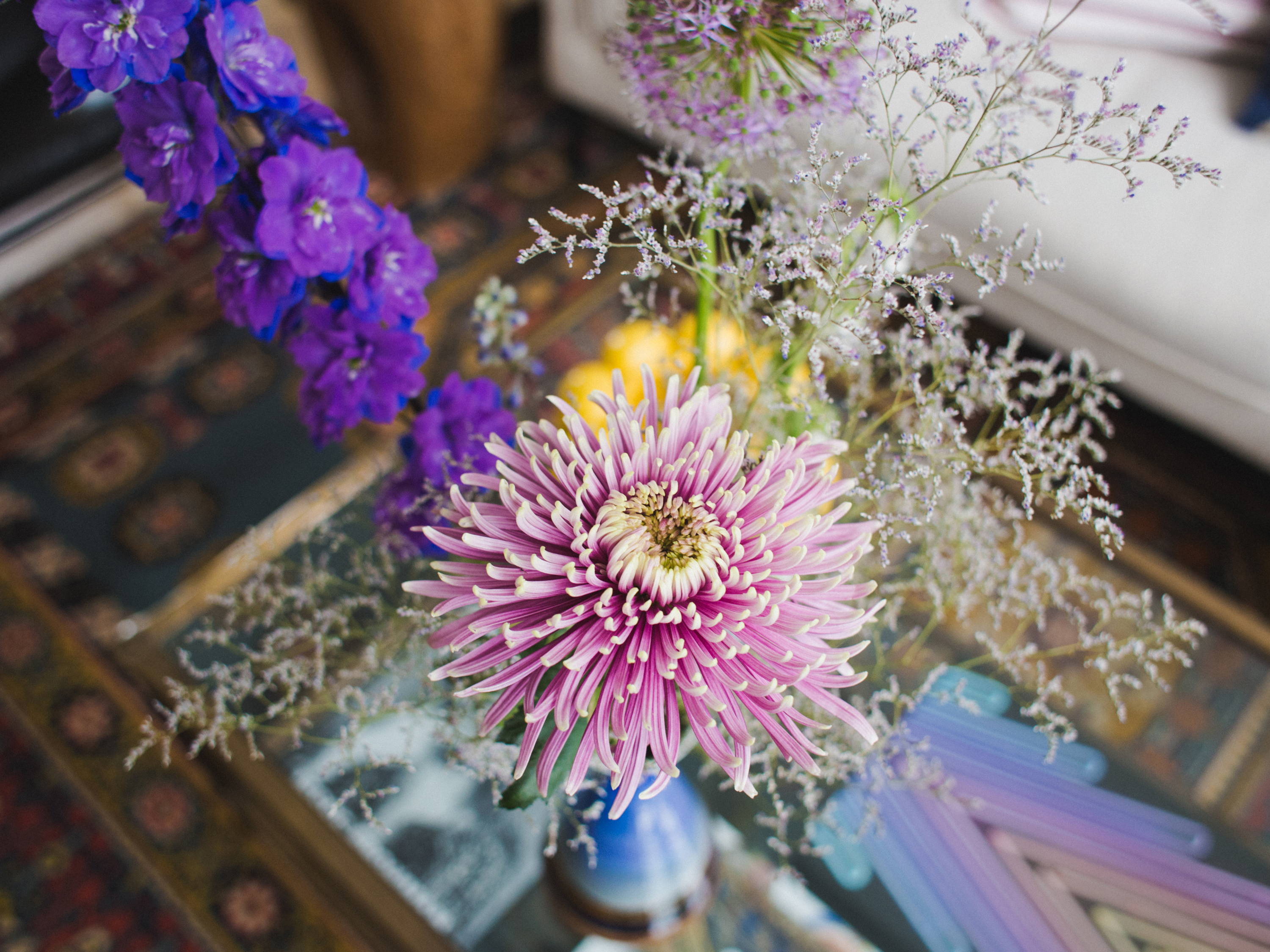 How do you deal with not washing the jeans?
Surprisingly, this isn't that difficult at all. After a night out, I discovered that airing them outside was enough. Of course, you need to be careful with stains or spilling anything on them, but other than that it's fine to postpone a wash. It actually made me realize how often I was washing my other clothing without necessity, which is not very sustainable. These jeans made me wash less in general. However, I'm planning to wash them within the coming weeks, before the warmer Summer days; you'll need to help me with that!
No worries, whenever you're ready!
You've come to the conclusion that raw denim helped you think in a more sustainable way about clothing, by reducing your washing habits. By wearing your jeans now, do you feel like you're making a statement?
In a way, yes. Most people don't understand raw denim, I had to learn the philosophy behind it too. Like many others, I used to wear fast-fashion clothing. Every week I bought something new. Now I prefer to buy vintage or invest in high quality that will last me a long time; this now includes raw denim. We, as a society, don't have any patience anymore. People want something now, instead of tomorrow. In jeans this translates to pre-distressing. Friends would tell me they don't want to wait until their jeans are nicely broken in and buy pre-distressed jeans instead. Not only is this bad for the environment, these products will not last them very long. I've done my part and shared what I can about raw denim, and there is definitely more to share. Some of them are now showing more of an interest in raw denim, but each to their own.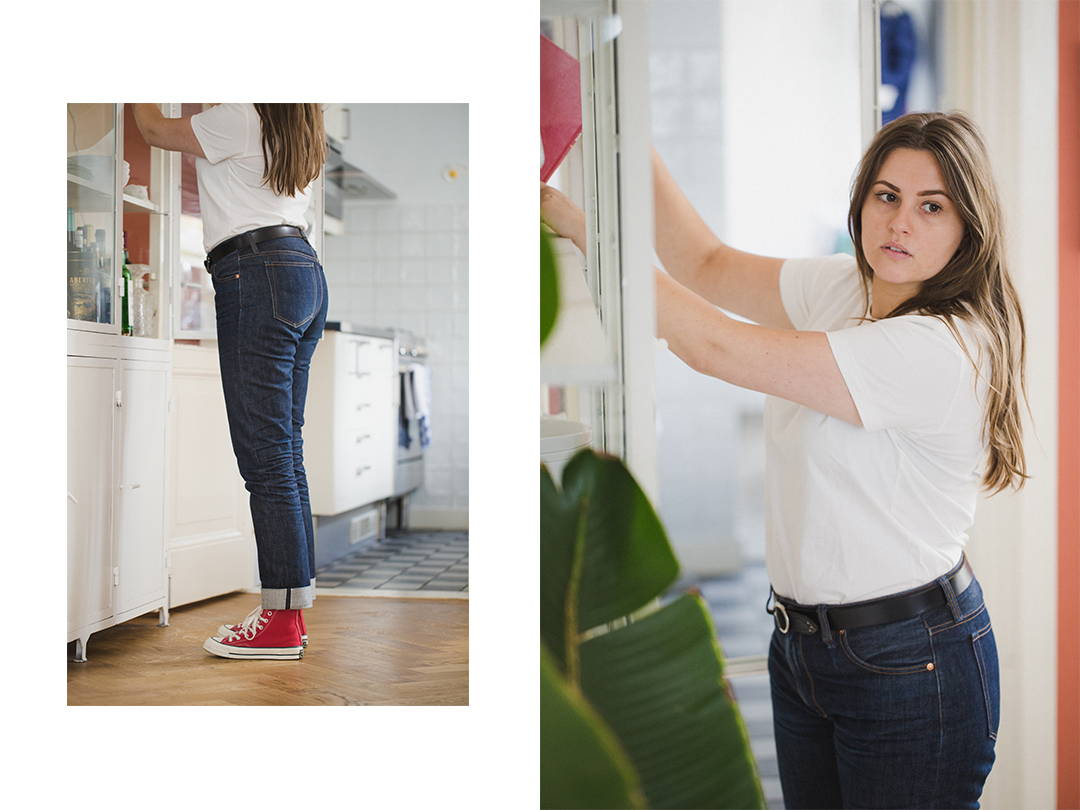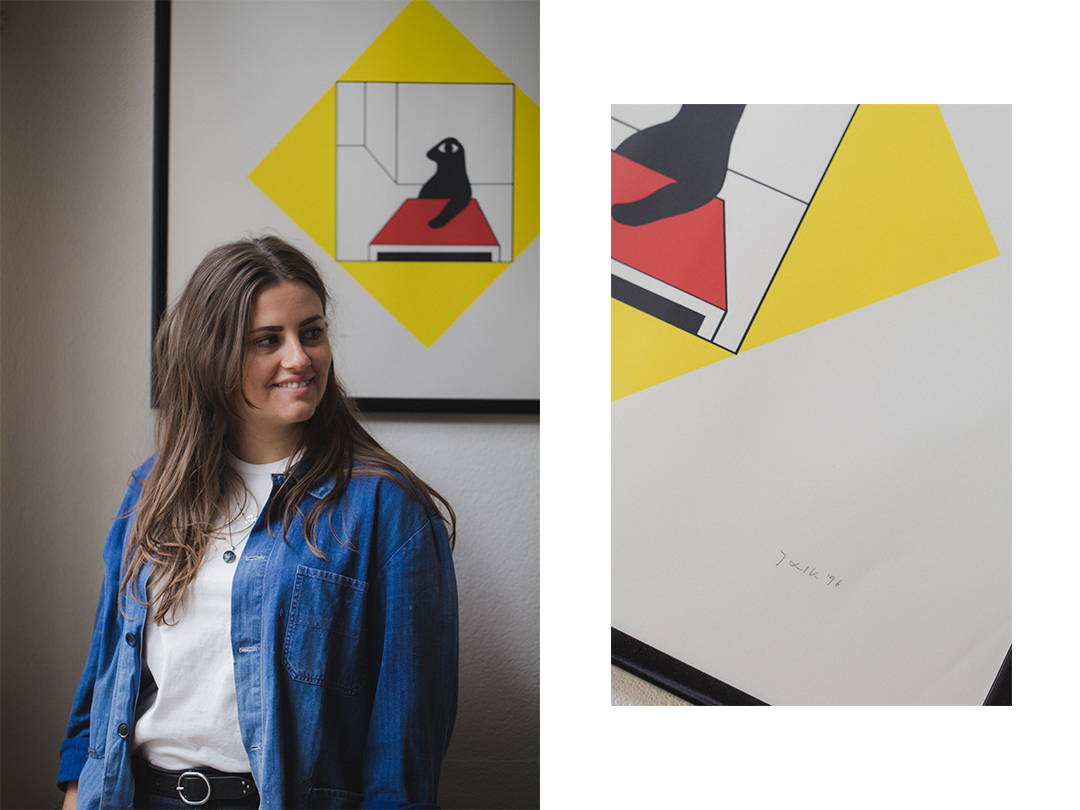 That's great, we definitely believe educating is the best way to build upon future decisions, and we know it doesn't happen overnight. Would you say you have a sustainable lifestyle in general?
I try to have a minimal impact on the environment. We separate our waste and reduce the use of disposable plastics in general. I always bring my own shopping bag and a refillable bottle; tap water here in the Netherlands is one of the best. I've reduced my meat consumption; just like clothing I prefer to buy less but high quality. Buying meat at the supermarket is a no-go for me; I prefer to go to the local butcher. Supporting local communities is as important as playing my part in climate change, local produce ticks both of those boxes. I'm also much more aware of the contents and origins of the cosmetics I'm using. Awareness is so important; it helps you change small habits that could have great effects.
What are your thoughts about the current consumer side of the fashion retail industry?
We are learning more and more about the impact of the fashion industry on our planet. This has made think about my personal shopping habits in a different way, I've become much more conscious in my purchasing habits. I haven't bought fast-fashion in 4 years; If I am going to dip my toes into the commercial world of fashion I stick to brands such as Uniqlo. I check the country of origin, where it's made, and what it's made off. Synthetic fibers pollute our environment with microplastics, so I look for natural fibers instead. I do a lot of vintage shopping, but even then, it's important to avoid plastics as much as possible because the impact on the environment remains the same as with new garments. What I miss with most of today's fashion retail outlets, is proper communication about the origin of their products and in what way they impact our lives. There're many brands that do it the right way, but there's only a hand full of brands that really communicate this kind of information properly. Even though I know that BENZAK is producing in an environment-friendly way, I think adding some additional information on the website would be great!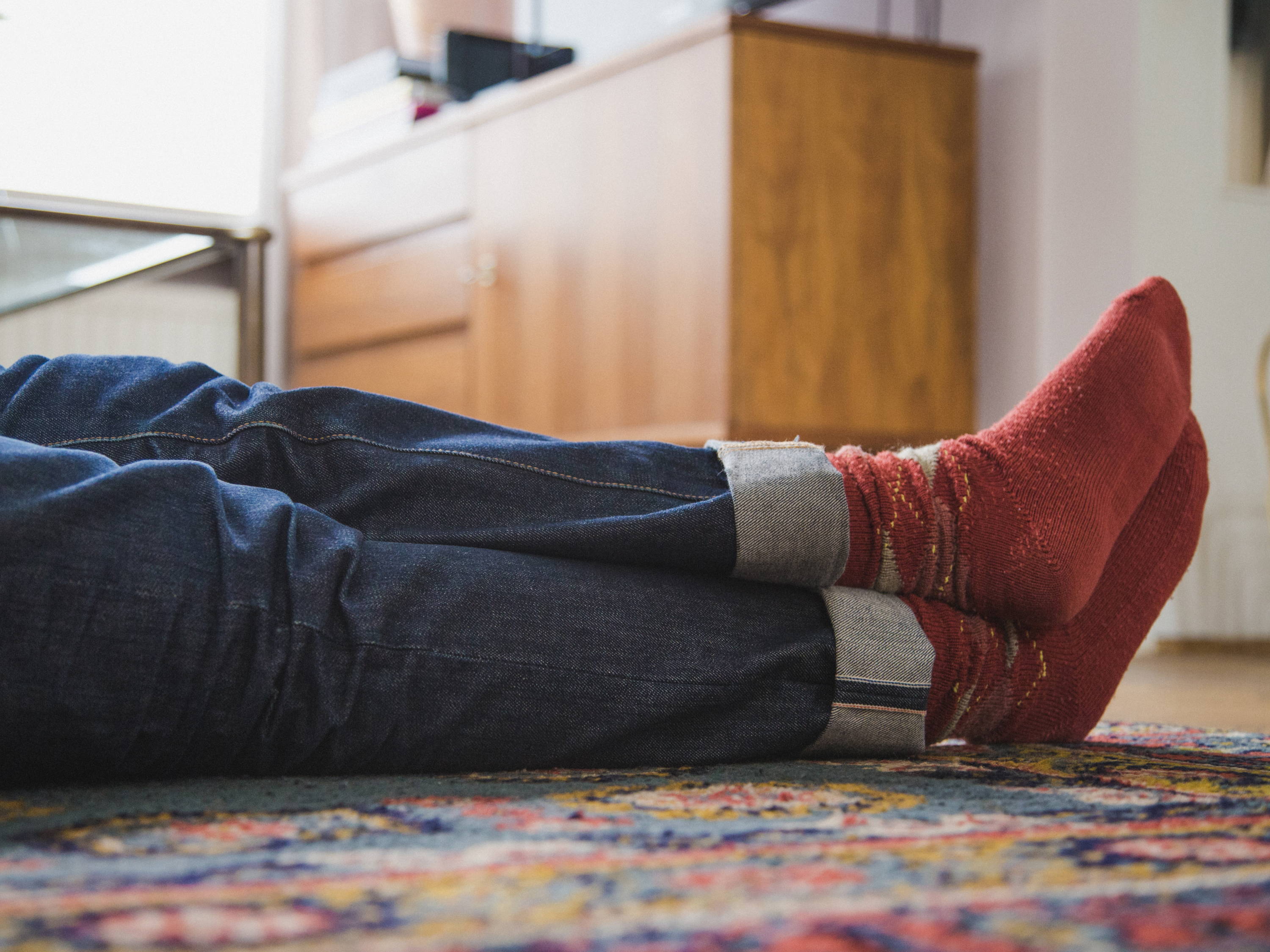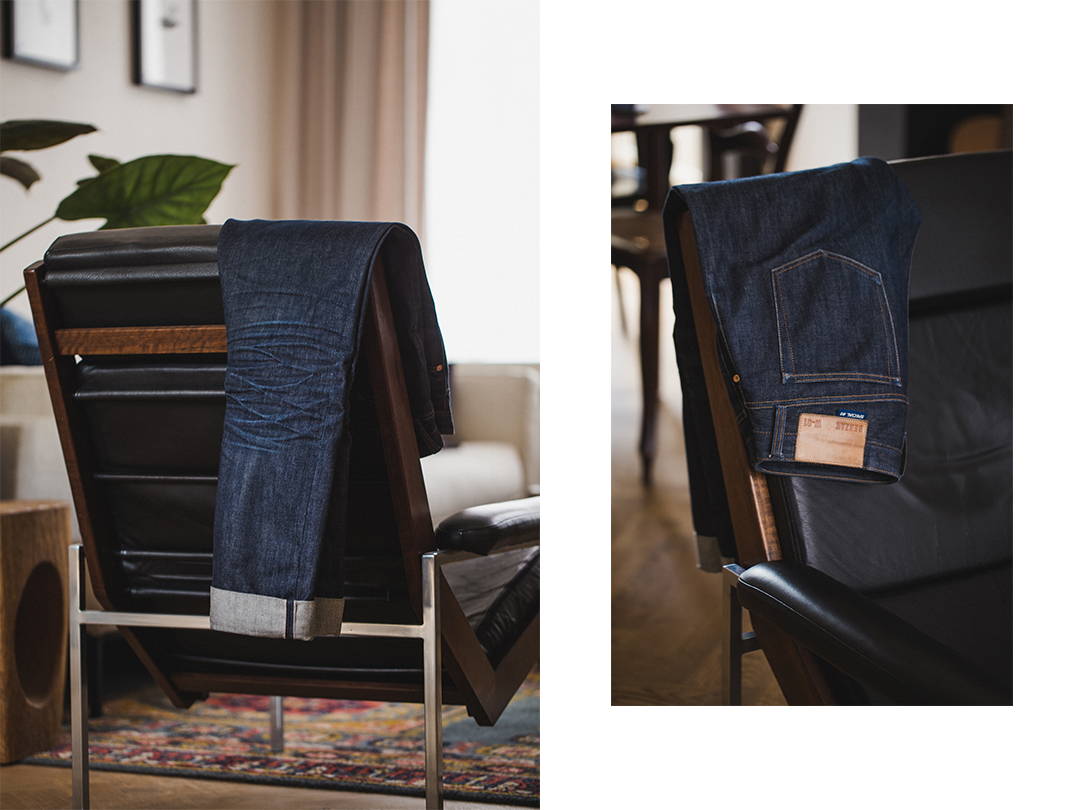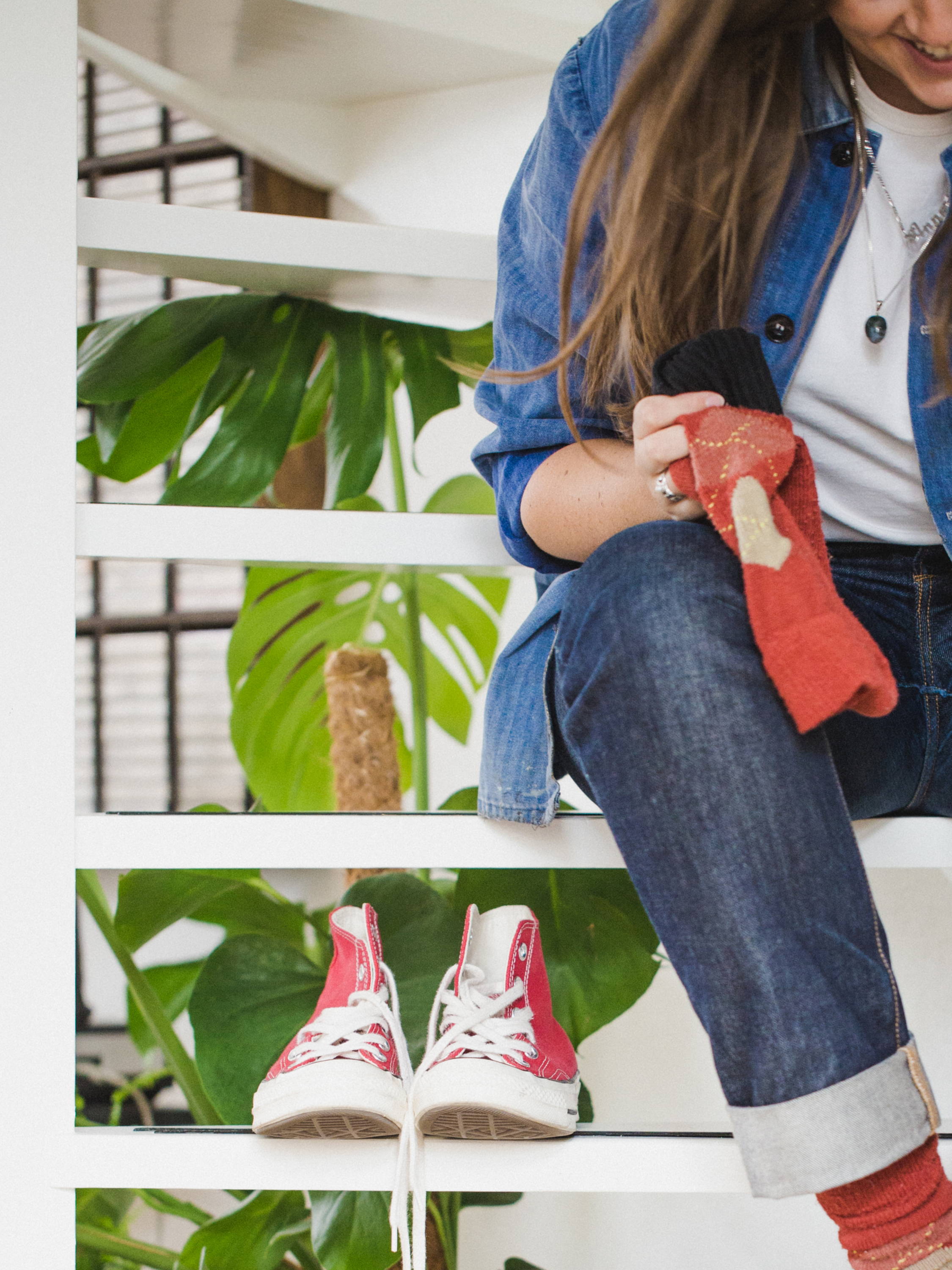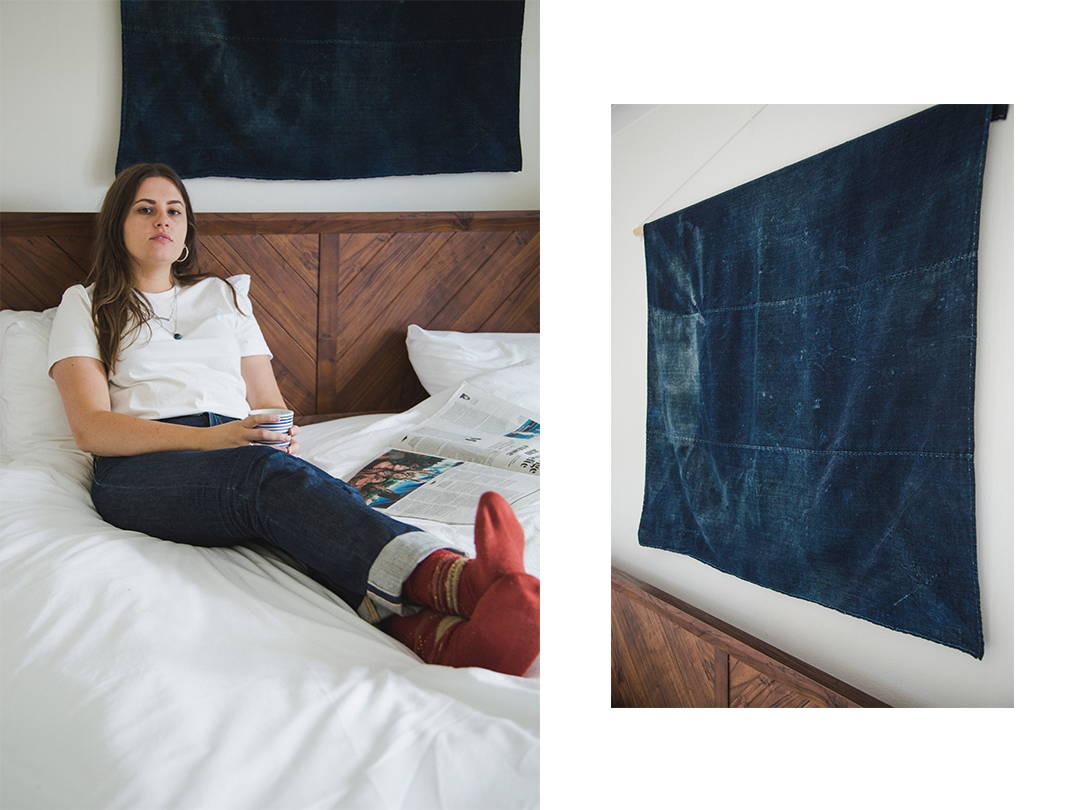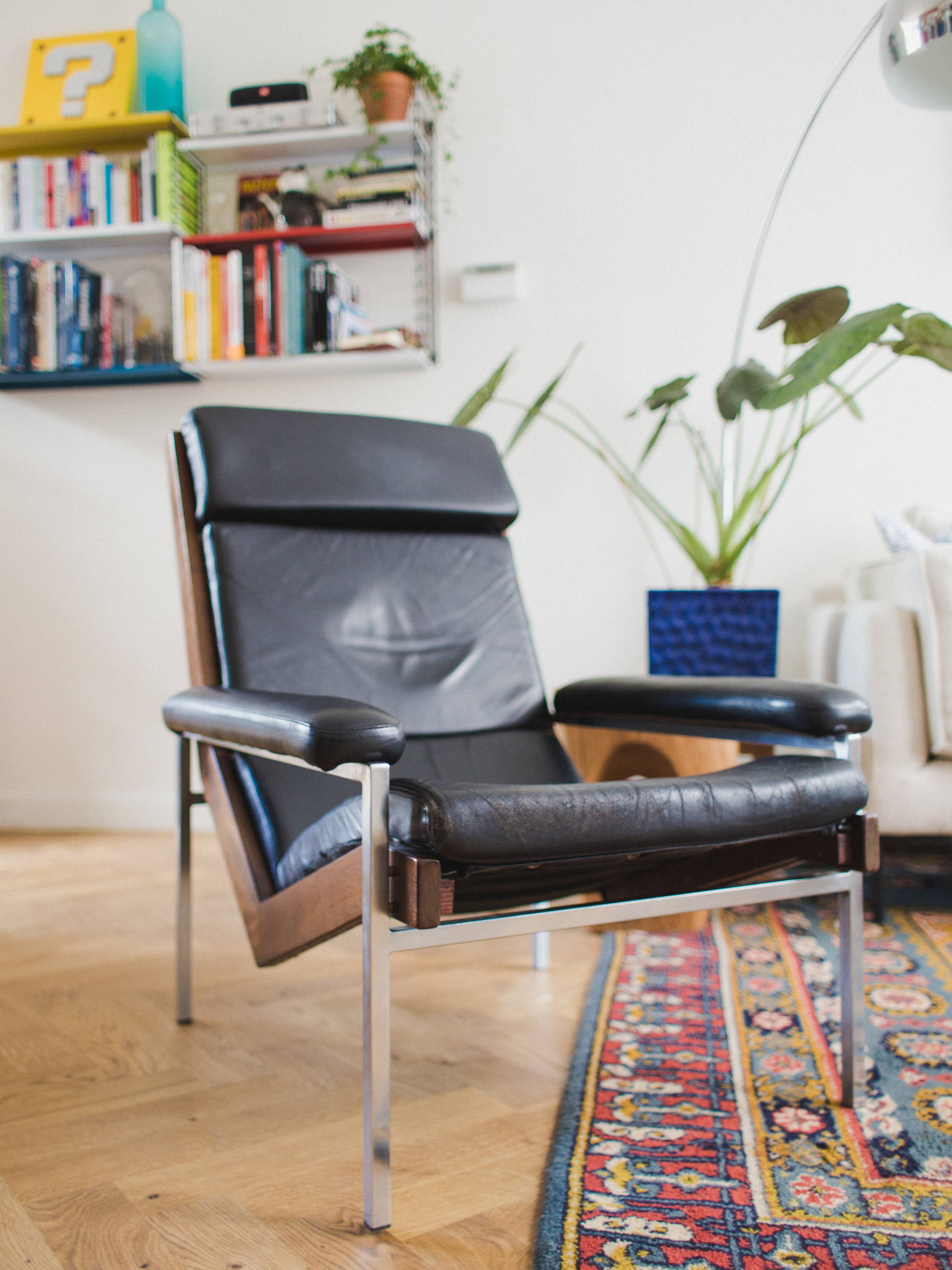 We will definitely take your advice into consideration! You work with interior; how does that affect your daily life?
I manage the image store of pols potten, a Dutch interior design brand based in Amsterdam. I'm around beautiful interiors and decor on a daily basis. My work at pols potten inspires my own interior choices, I believe it's important to be connected to your own environment in both a visual and emotive way. I like to combine different styles and materials, but always pay attention to quality. One of my favourite things to do is to source second-hand (vintage) special design pieces. A good example is my Lotus chair, designed by Rob Parry for Gelderland. I really love the aesthetics of this piece: the wooden geometric frame combined with the soft black leather hits the sweet spot.
I get from this that when you're not at work, interior still plays a big role in your life.
Besides furniture, I really love plants and flowers too. Plants give your interior a fresh look, and it's, of course, good for the oxygen level. But so do flowers; therefore, I like to get a new bouquet every week. You can really make me happy with fresh flowers! So yes indeed, outside of my work, interior does play a big role in my life. Just like food does; I wouldn't consider myself a great cook, but I love to experiment with recipes, get fresh food from the market, and learn new things just by trying. I can also combine this with my love for interior, using nice tableware and making the table.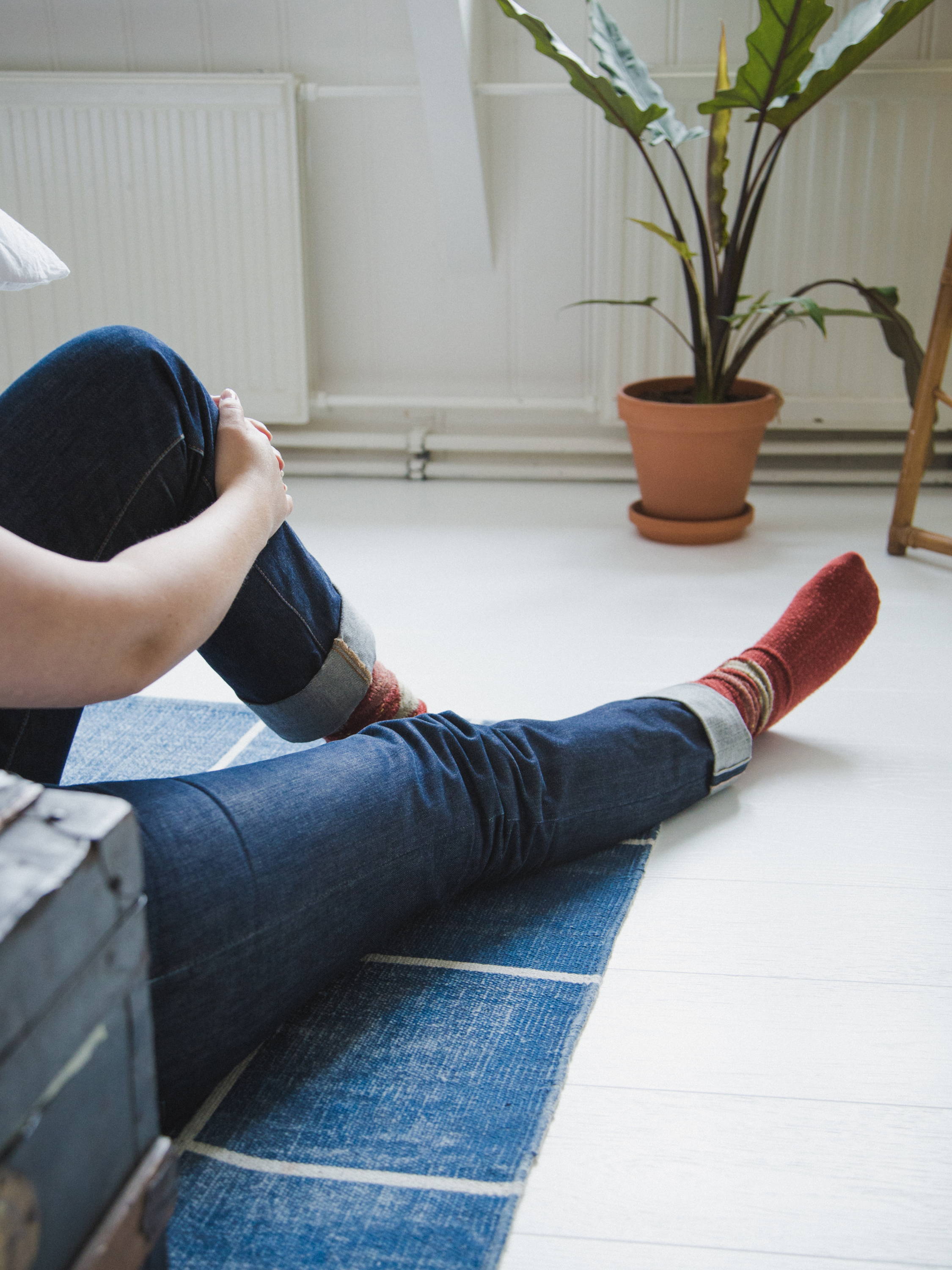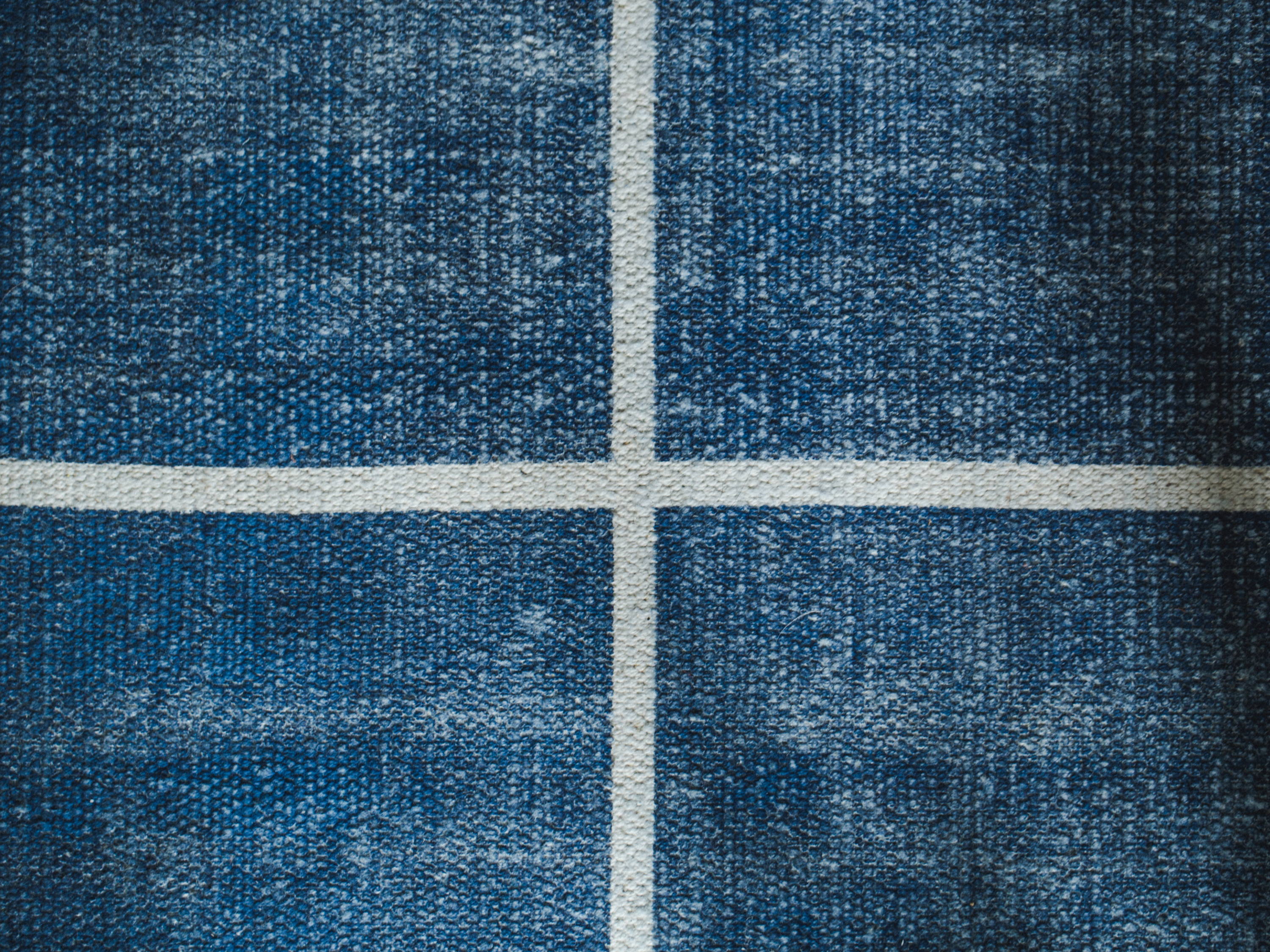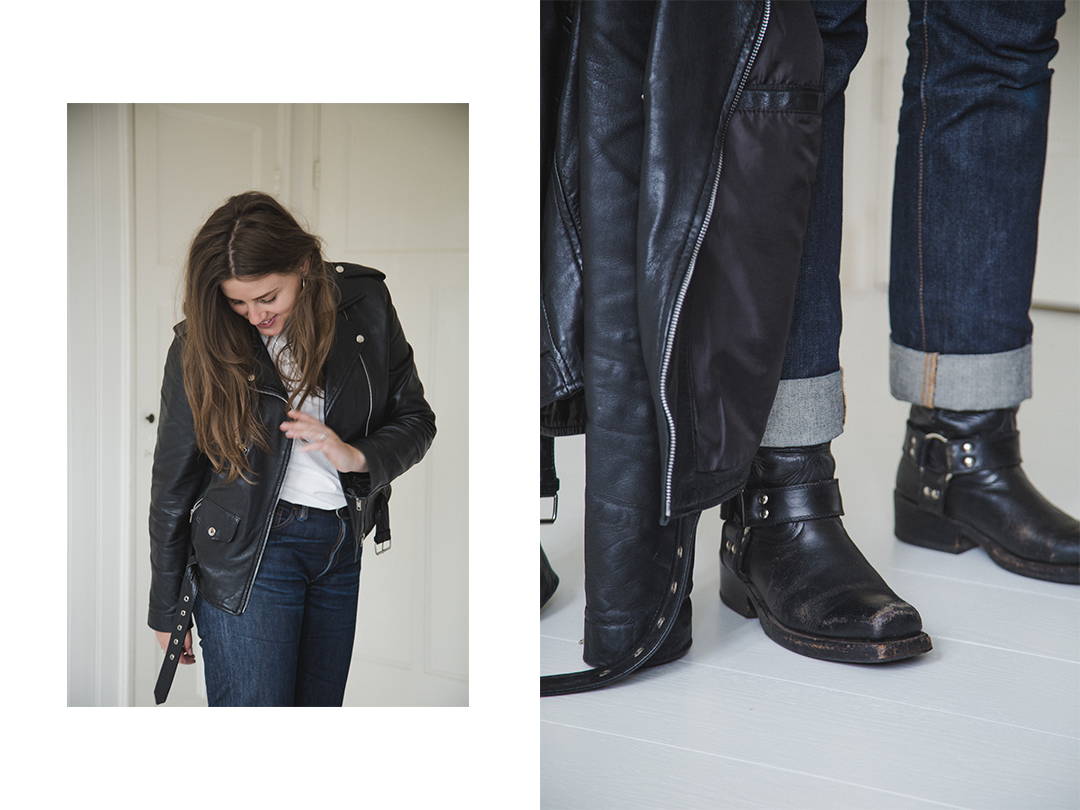 Besides interior, what else inspires you?
Loads of things, anything around you can be inspirational. I like to visit museums whenever I can, I have a year subscription on Dutch museums [museumjaarkaart], which gives me free entrance to most, so I like to get the most out of it. Especially when they have new exhibitions because I know all permanent collections by now! I think it's important to keep educating yourself and stay up-to-date, it's part of your own development. Art has always been influential to my way of thinking and approach to life. It affects how I think about colours, shapes and materials. I do try to avoid trends, focus on timeless styles and high quality. But sometimes you can't avoid following certain trends.
Does this also affect your choice of clothing?
I think so. When I used to buy mainly fast-fashion, I was really trend focused. I had the urge to get the latest items, but this is also how these companies operate; they try to convince you that you 'need' their new collection, although you've just bought something a week ago. Prices are low, so you can afford it, but it's always at the expense of quality. Now I pursue a timeless look, raw denim has proven to be a great addition to this style. I really believe everyone should invest in a pair of raw denim jeans; they not only last very long, they're a piece of clothing that stays with you throughout the ages. It's essentially one of the most sustainable clothing choices you can make, and it's easy to combine with many different styles of clothing.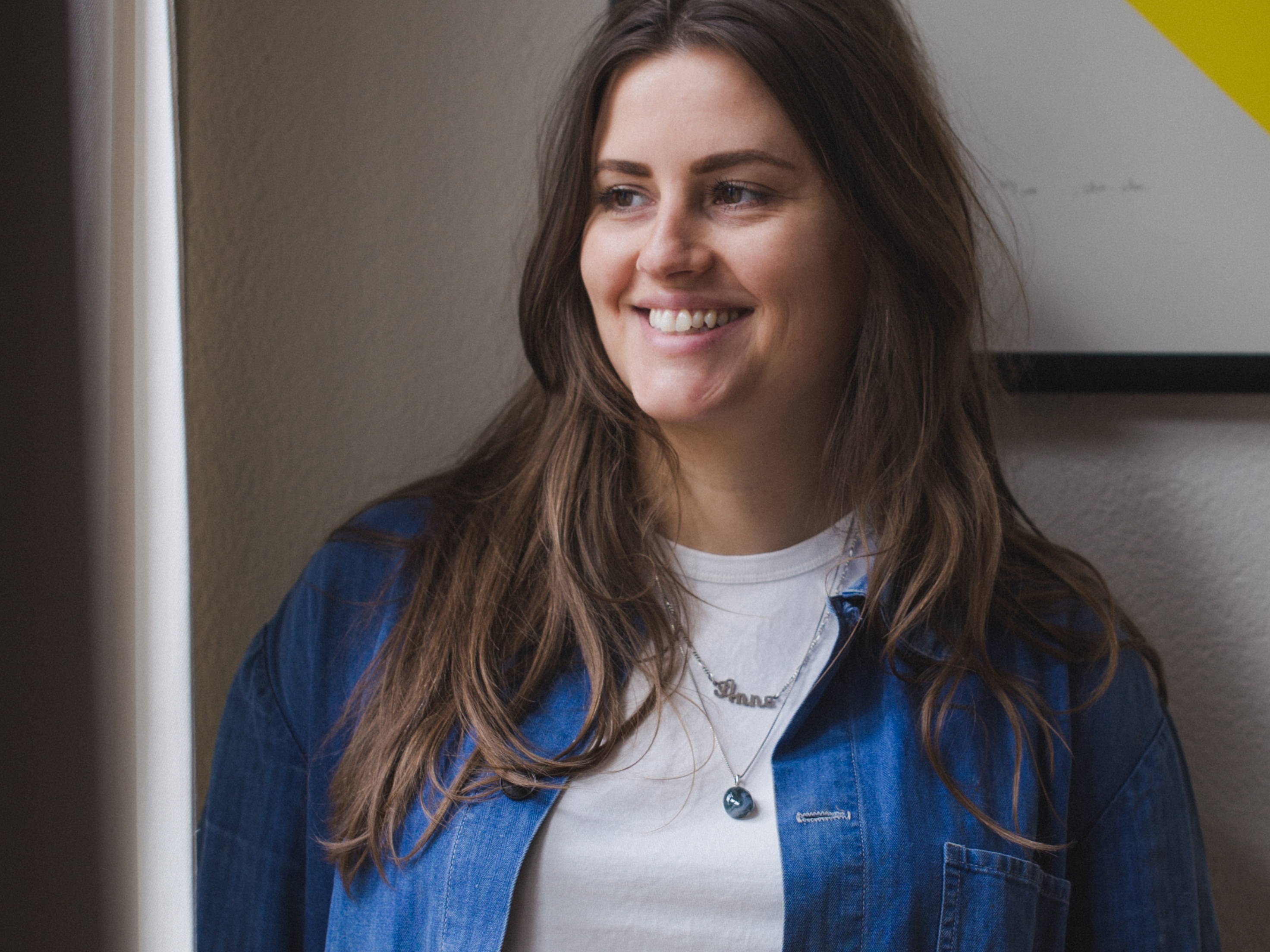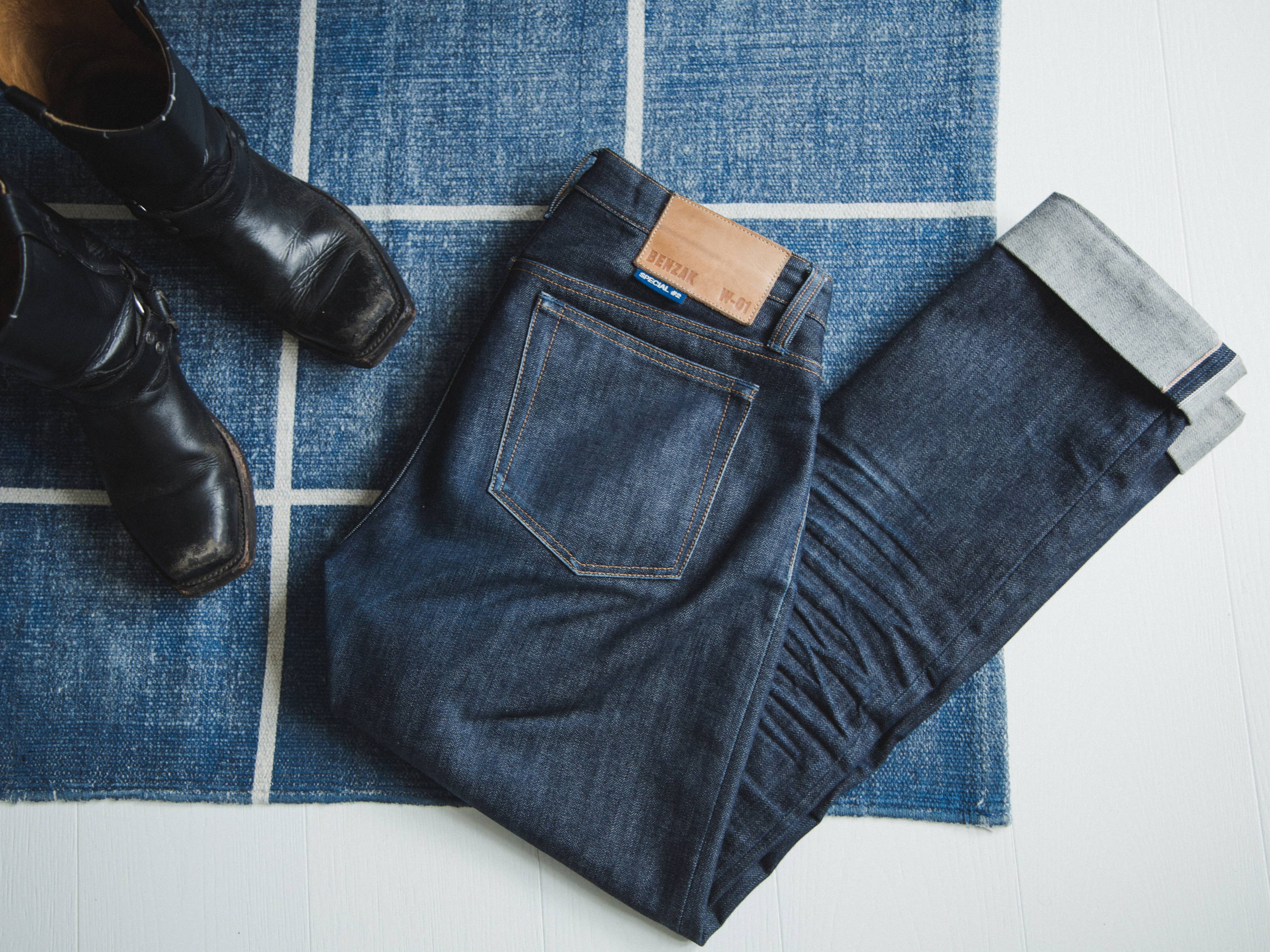 ---