Next week we'll be releasing two highly anticipated raw denim fabrics into our 'made in Japan' collection: the grey cast 13.5 oz. LHT and the indigo x indigo 14 oz. RHT (double indigo). Both denim fabrics are completely different in character, illustrate their own unique nuances and are available in different fits. These are two very interesting fabrications for many reasons: the grey cast has a special place in our hearts, and the double indigo is somewhat a BENZAK icon.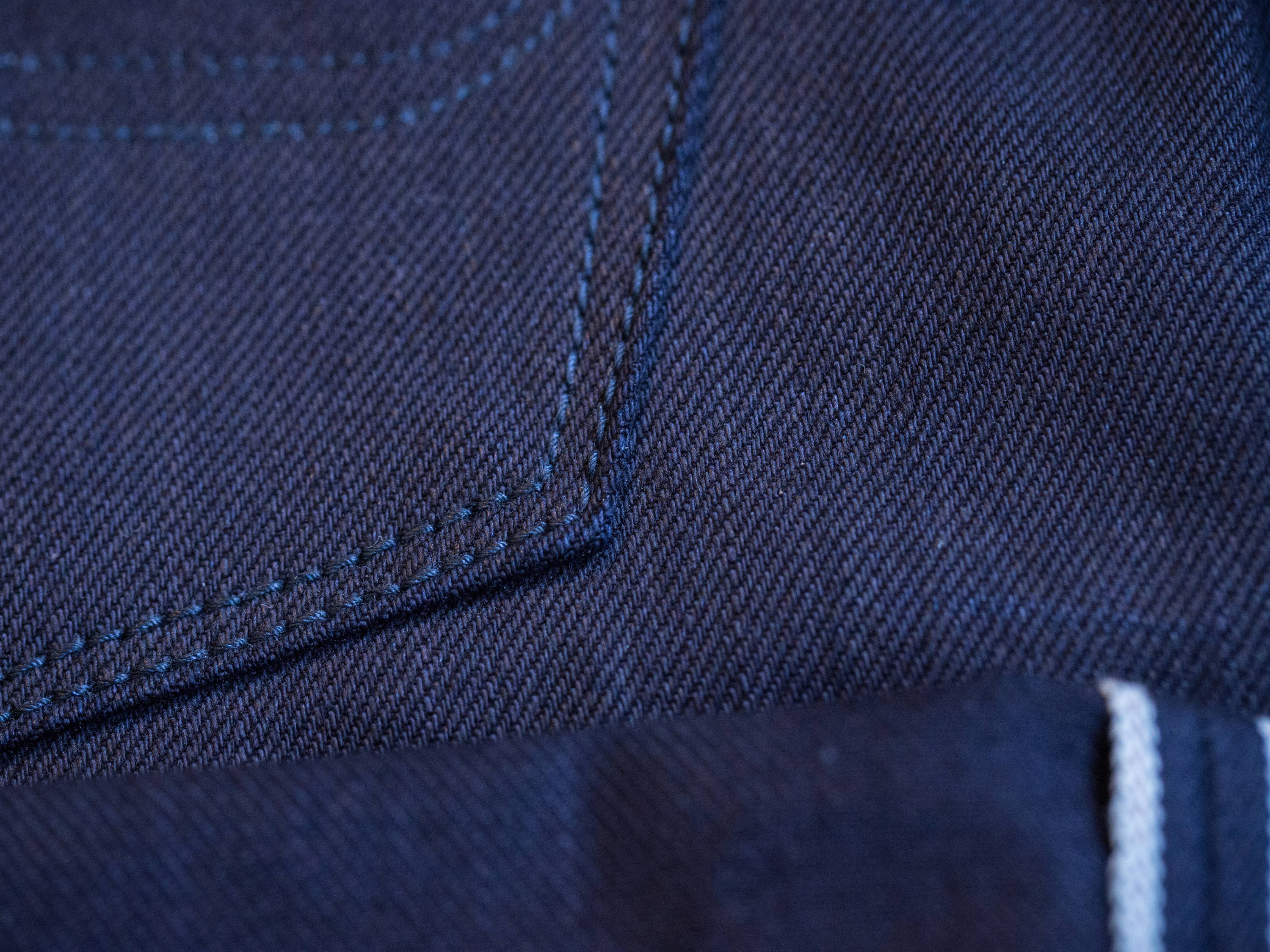 We are denim developers. We pride ourselves in offering up a well-curated selection of fabrics in our staple fits each year. We receive a lot of questions about why we select our fabrics and how we decide to use them. The simple answer to this is, we gravitate towards specific elements of a material with a vision in our mind of how we would like to use it, and then we roll with the punches and create our products.
BDD-006 grey cast 13.5 oz. LHT
This is a fit-fabric combination we have been meaning to incorporate into the collection for some time. Back in 2014 we already had the idea of getting this combo into the mix. Although, during development stages the fabric became unavailable due to a halt in production. We're big believers in timing, so we thought it'd be best to save this one and wait until the time is right.
The grey cast left hand twill fabrication is one that our founder Len holds close to his heart. It was at the age of 18 when he picked up a pair of Lee 101Z's from their mid-90s vintage repro line, using a very similar grey cast LHT. You could say it was love at first sight. We have these very jeans on display at our Amsterdam studio. The LHT construction also holds a special place in our brand history. We are technically bringing back the LHT construction after a few years of absence. If you're familiar with our previous denim offering, we had our famous green cast denim and a grey blue denim both in this construction.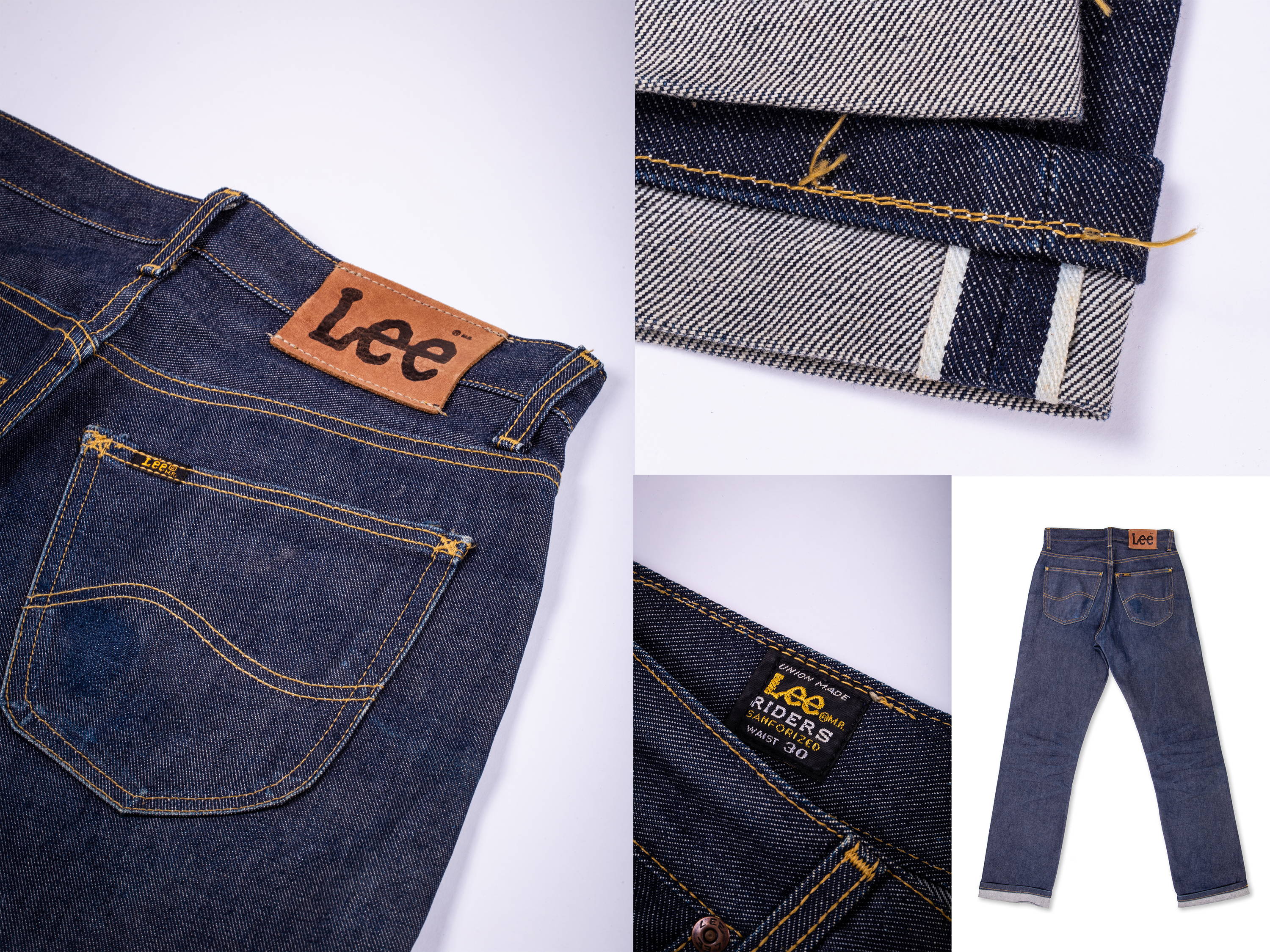 Lee 101Z Rider mid-90's vintage reproduction jeans, from our archive
The beauty of a left hand twill fabric is that it is super soft on both the inside and outside, and it has very unique fading abilities. You could even compare the fades to cloud-like formations. You won't see any sharp, or hard fade lines on our Japanese grey cast denim. If you're looking for something on the more subtle side of raw denim, then you're on to a winner here. We'll save the technical side of this for another time, but the most important thing to know about left hand twill is that it'll develop a softer touch by wear and wash.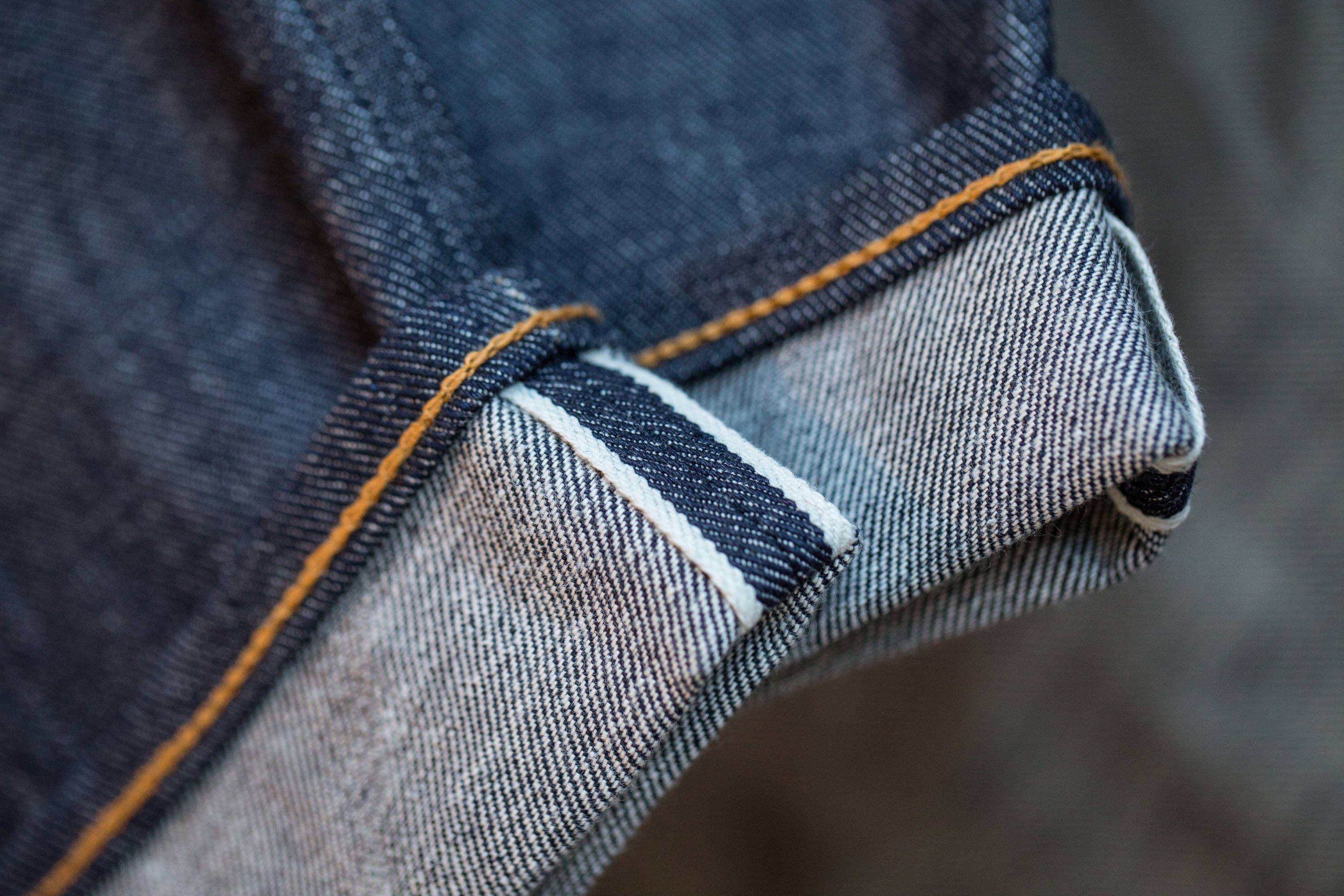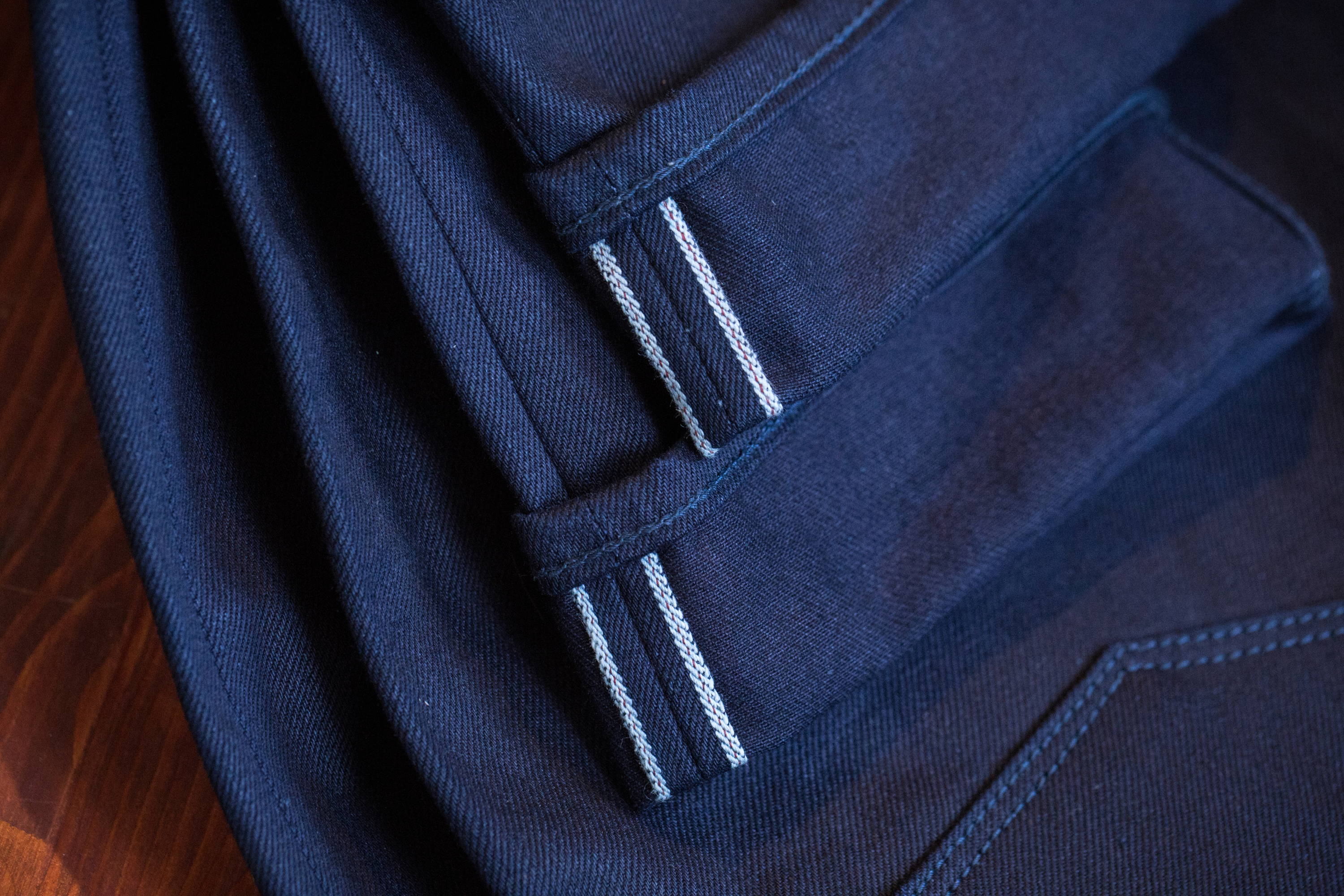 BDD-711 indigo x indigo 14 oz. RHT
Double indigo is a BENZAK classic and one of our favourite dye combinations. If you've been keeping tabs on us over the past few years, you'd have seen the double indigo fabrication before. The first time we dropped a double indigo iteration was back in 2014. We introduced a 14 oz. Japanese fabric dubbed the dark tone, finished with standard copper and brass coloured threads. This was the first time we utilised this colourway and weight within the collection. It was produced in second production lot and is essentially one of our first-ever products.
For our Autumn/Winter 2018 collection we introduced a EUROPEAN MADE double indigo fabric. We made this available in two of our staple EUROPEAN fits, the B-01 SLIM and B-03 TAPERED. Unfortunately, this fabric has become unobtainable because the supplier of the indigo-dyed weft yarns pulled this from their offering. You cannot simply use an indigo-dyed warp yarn to replace the weft, so we had to say good-bye to this specific fabric after one season already.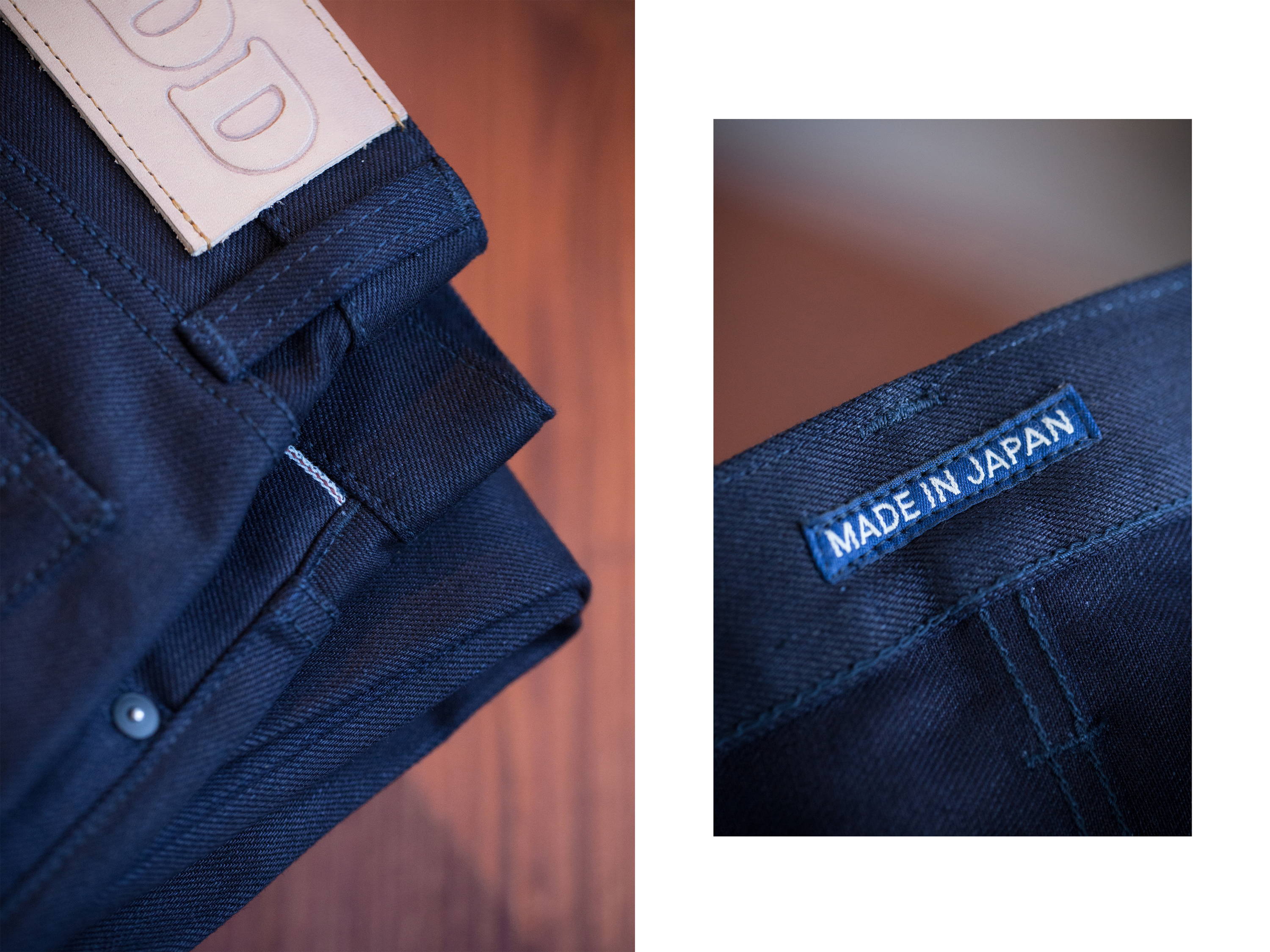 In 2019 we teamed up with Amsterdam-local Tenue de Nimes for our 5-year anniversary celebration. We launched a very special pair of jeans with co-branded features, the BDDxTDN-006. The BENZAK community snapped this indigo combo up in no-time, so this season we are reissuing the very same 14 oz. double indigo fabric in our well coveted BDD-711 regular tapered fit.
2020 is shaping up to the year of anything goes. It's only right that we bring this fabric back around. 14 oz is a weight that transcends seasons and is our founders most preferred weight. It's light enough for the warm months and heavy enough for the winter. And, if you're looking for sharp fades that'll produce highly characterised markings, then our BDD-711 indigo x indigo is for you.