Our SS20 collection applies a versatile and technical approach towards a series of essential lifestyle silhouettes. The use of durable materials and approachable styles merge our signature brand aesthetic with a matured perspective on modernised apparel. Drop 3 is up there with one of our most universal releases to date. Spring/summer presents us with an opportunity to expand our collection with an indigo-dyed cotton-linen offering. Drop 3 comprises of two light-weight bomber jackets reimagined through the BENZAK lens, the BC-01 TAPERED CHINO receives a fabric update, and we're also having a full restock of the sand linen chino. All three of the new indigo-dyed garments have been pre-washed. This is a functional and style-driven finish: shrinkage and indigo bleeding are minimized, and the fabric develops the unique character we set out to create.
BC-01 TAPERED CHINO 6 oz. indigo linen
We introduced the BC-01 TAPERED CHINO back in the summer of 2018. We first rolled out the style in a 7.5 oz indigo herringbone and then gave it an autumn/winter twist – and developed it in an 8 oz. wool herringbone. It's fair to say, the cut and fabrications were a hit among our community. So, we thought we'd give the tapered chino an overhaul and breath new life into an updated iteration. The chino follows a similar profile to our EUROPEAN MADE B-03 TAPERED cut, you can expect a spacious top block with a slight taper from the knee down. Our SS20 BC-01 is crafted from a light-weight, breathable 6 oz. indigo-dyed cotton-linen, and is loaded with quintessential BENZAK detailing. The fit and fabric combination give the silhouette a totally new look and feel. For the first time, our newly designed BENZAK brand debossed black leather patch features on the chinos. The two back pockets are welted, the side pockets are slanted, and the waistband has seven reinforced belt loops. We've lined the inner waistband and pockets with a Japanese-made camo sateen twill; the camo lining is a nod towards the military-style accent that features throughout the SS20 collection. The chino is an everyday throw on spring pair of trousers. Suitable for smart casual wear with a pair of your favourite oxfords, and easily styled with a pair of sneakers.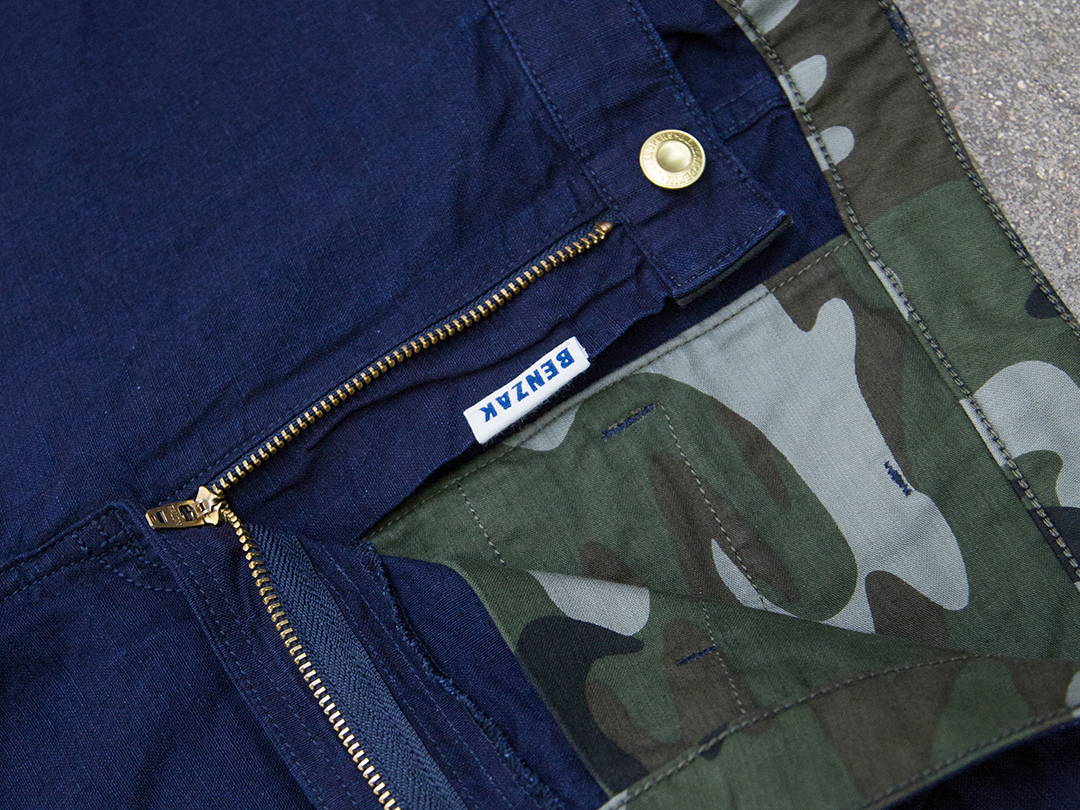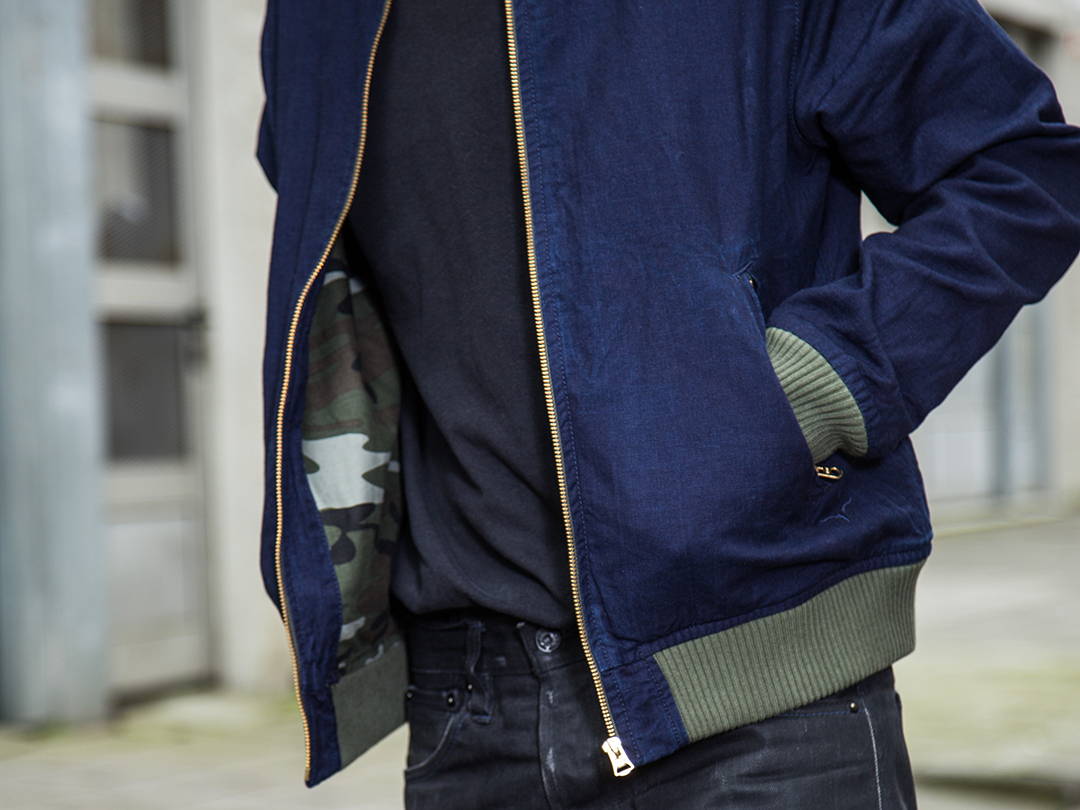 BBJ-01 VARSITY BOMBER JACKET 6 oz. indigo linen
The first of our bomber jackets to enter the collection is the BBJ-01 VARSITY BOMBER. The jacket draws inspiration from a past-time that has influenced our own version with signature sportswear BENZAK detailing. The BBJ-01 is made using a light-weight 6 oz. indigo-dyed cotton-linen fabric with a camo sateen lining. From the very first glance at the BBJ-01, the indigo cotton-linen fabric boasts breathability, durability and character. In true bomber jacket style, the body is short with the waistband sitting just above the beltline. The jacket is roomy across the chest and shoulders with plenty of space for layering. We've used 100% cotton forest green ribbing on the sleeves, waist and collar. The ribbing is a comfort feature and adds contrasting elements to the overall aesthetic of the jacket.

BBJ-02 WESTERN BOMBER JACKET 6 oz. indigo linen
The BBJ-02 WESTERN BOMBER JACKET 6 oz. indigo linen is lining up to be a BENZAK fan-favourite. The BBJ-02 is a comprehensive light-weight cotton-linen jacket made for those warm days and breezy nights, and it's loaded with quintessential BENZAK features. The front and back yoke are one of the highlight features of the western bomber jacket. To begin with, the yoke and collar are made from a contrasting 8 oz. Japanese herringbone fabric. You'll also see this fabric feature on a few of our other garments throughout the SS20 collection. Secondly, the yoke seams are in the shape of a longhorn bull's horns. This is our subliminal nod towards our brands' humble beginnings. The front features navy zipper tape with a classic Talon zipper, and the jacket is lined with our SS20 core feature detail, the Japanese camo sateen twill. The cotton ribbing around the waist adds extra depth to the overall style, and is both a comfort and aesthetic feature. In tune with our other garments, the BBJ-02 has a clean and contemporary construction, and the silhouette can be seen as a cross between a contemporary bomber, and a Harrington jacket. Our bomber jackets contribute towards a relaxed, casual look and are easily paired with both new and well worn-in jeans.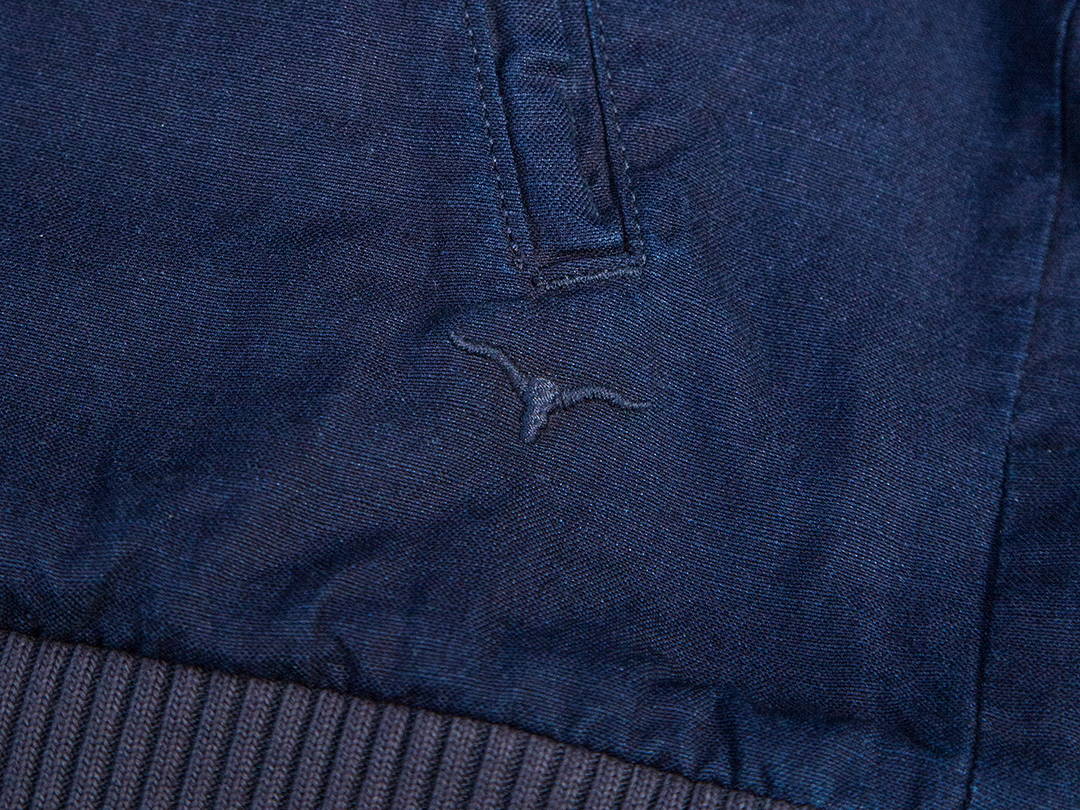 BC-01 TAPERED CHINO 7.5 oz. sand linen selvedge
Back in stock: the BC-01 TAPERED CHINO was an instant hit with our community. It may very well be one of the most coveted non-denin garments that we produce. The roomy top block is an understated, simple feature and plays a huge roll in the overall comfort of the pants. After a few wears and the occasional wash, the crisp selvedge fabric will evolve over time and develop even more authentic character. A pair of tapered sand coloured chinos are a sartorial essential in any man's wardrobe. Easily dressed up for special occasions, and easily styled for a more casual setting. We're pleased to have one of our favourites restocked online and at select retailers.
SS20 Drop 3 will be available online and in stores from 29th April 2020.
To keep up-to-date with the latest news from us click here to subscribe.